Saturday 27th May 2023 was a beautiful sunny morning and although cloud built later conditions remained bright and pleasant with good breaks in the cloud and warm spring sunshine. This weather allows for comfortable walking and great close views of butterflies and day-flying moths which can be unapproachable in hot weather and impossible to find when it is cold. In short, conditions were perfect for Butterfly Conservation Ireland's walk on Lullybeg Reserve.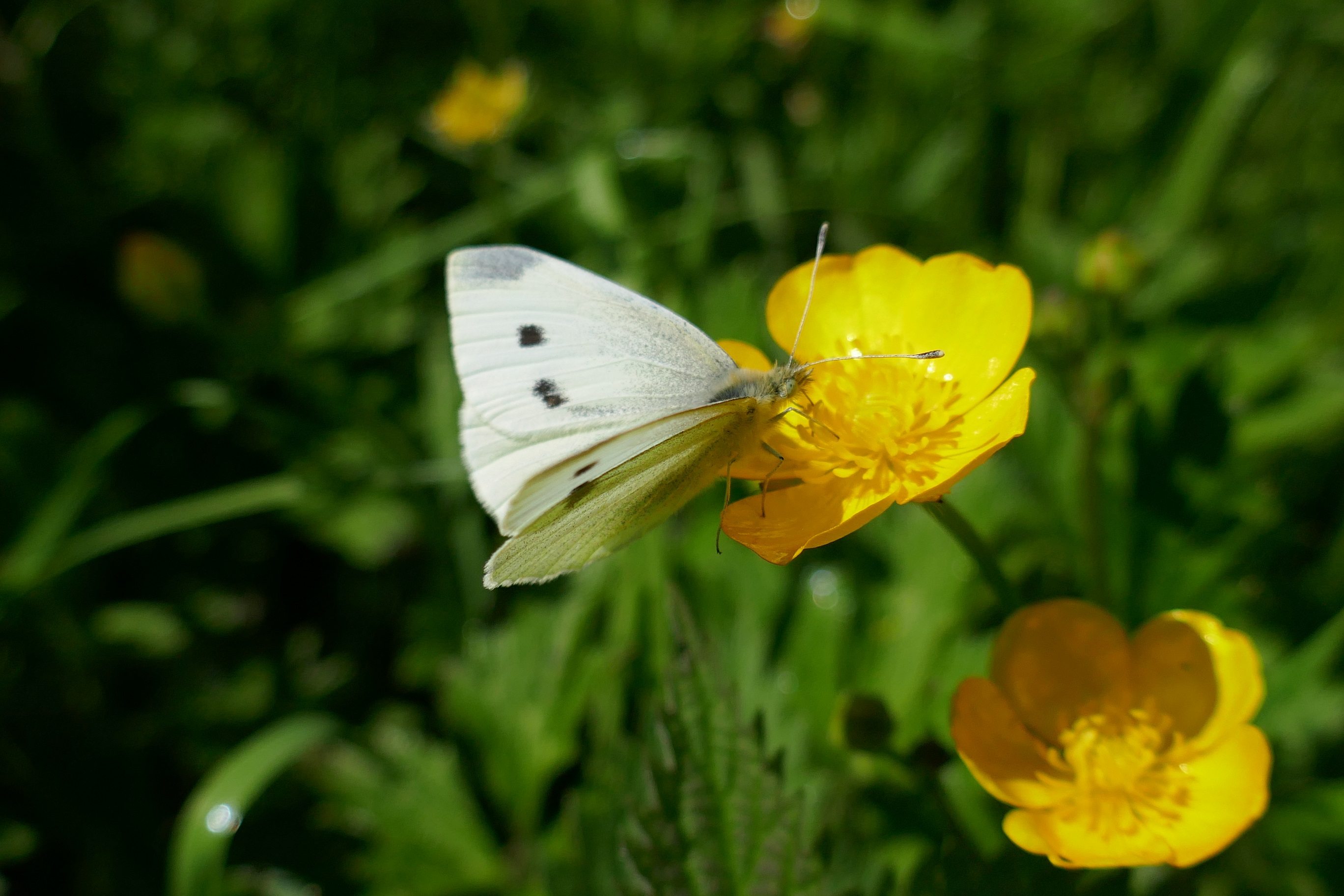 We began our walk along the track leading to the Irish Peatland Conservation Council's reserve at Lullymore, and walked through various habitats, such as wet grassland, poor fen, scrub, woodland, wet heath, and onto Lullybeg Reserve which continues the habitat diversity, especially wet grassland, elements of dry meadow, poor fen, marsh, wet and dry heath. This habitat richness means that a biodiverse fauna is expected, and we observed plenty of examples of this richness.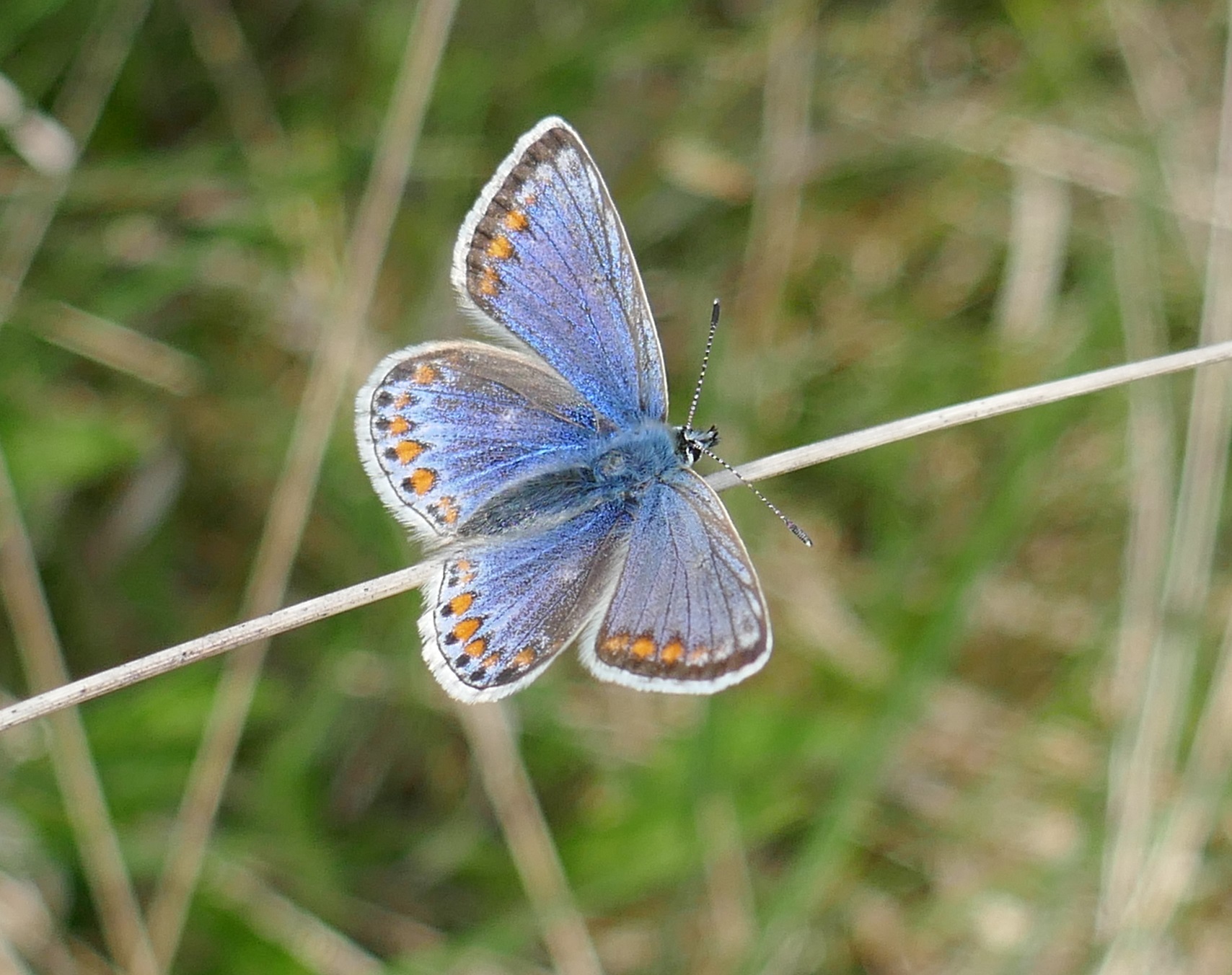 Drier areas showed good displays of Common Bird's-foot-trefoil, a magnet for Burnet Companion moths, Narrow-bordered Bee Hawkmoths, Common Blues, and Dingy Skippers. This plant produces a 'trefoil lawn' at the base of the track opposite the reserve at Lullymore and near the silt pond on Lullybeg Reserve, and we stopped and spent plenty of time at both locations, seeing abundance and diversity. An especially lovely 'blue' female Common Blue loitered at the first patch of trefoil in Lullymore and we managed some great photographs of her; she posed nicely during the bright spells before becoming more active during direct sunshine. Many female Common Blues are chiefly brown on their upper surfaces, so seeing a blue individual is a treat. This blue suffusion usually features more prominently the further west you look, with more easterly areas having smaller, browner females.
The male is bright, shining blue wherever one looks for him, and these looked dazzling in the sunshine.
We checked the buckthorn bushes in the track connecting Lullymore and Lullybeg, seeing Brimstone eggs and half-grown larvae. Brimstones are good at breeding over an extended period, laying eggs from March into June. This results in adults emerging over at least two months giving the impression that it is on the wing most of the summer.
This is somewhat illusory. Individual newly hatched Brimstones spend little time on the wing during the summer; they hatch in summer, feed for a short time on flower nectar and disappear until the following March. Hatching over many weeks means it appears to be flying for several weeks, but no butterfly that needs to survive the winter as an adult can afford to take the risk that prolonged activity brings. That explains the seeming anomaly of seeing more in late March after winter than were counted the previous summer.  This brief summer fling also accounts for the excellent condition of the over-wintered Brimstone in March, when it is already around eight months old! After checking the Brimstone caterpillars, Emperor Moth caterpillars were found on Meadowsweet, one of several plant species it uses in the area.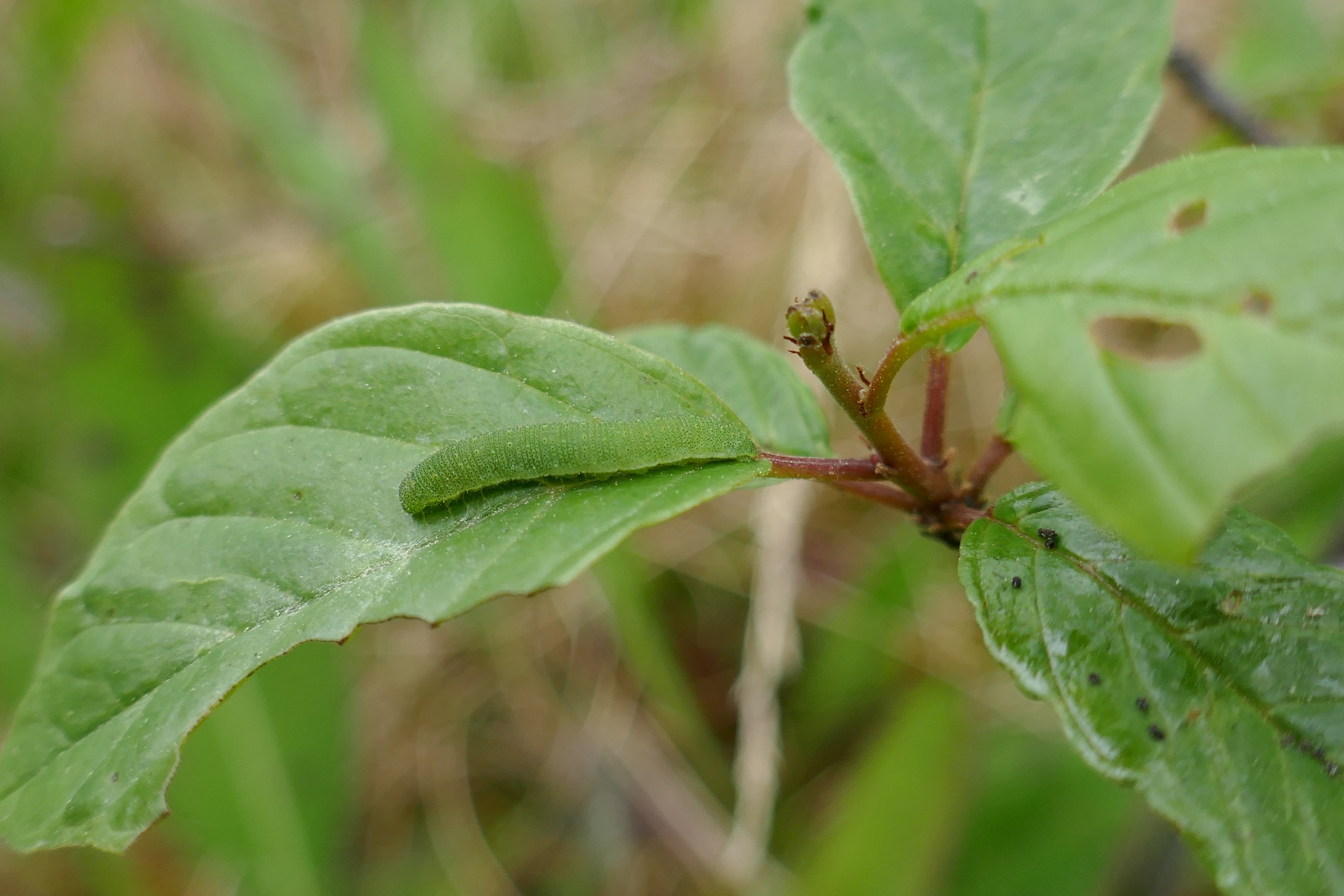 Lullybeg Reserve was awash with Marsh Fritillary butterflies, most looking perfectly fresh. Confusion reigned along the stream bank, with Burnet Companions jostling with Marsh Fritillaries for space and attention, with occasional skirmishes between Dingy Skippers and Burnet Companions. Altogether I counted 99 Marsh Fritillaries. I am sure number 100 was seen by one of us!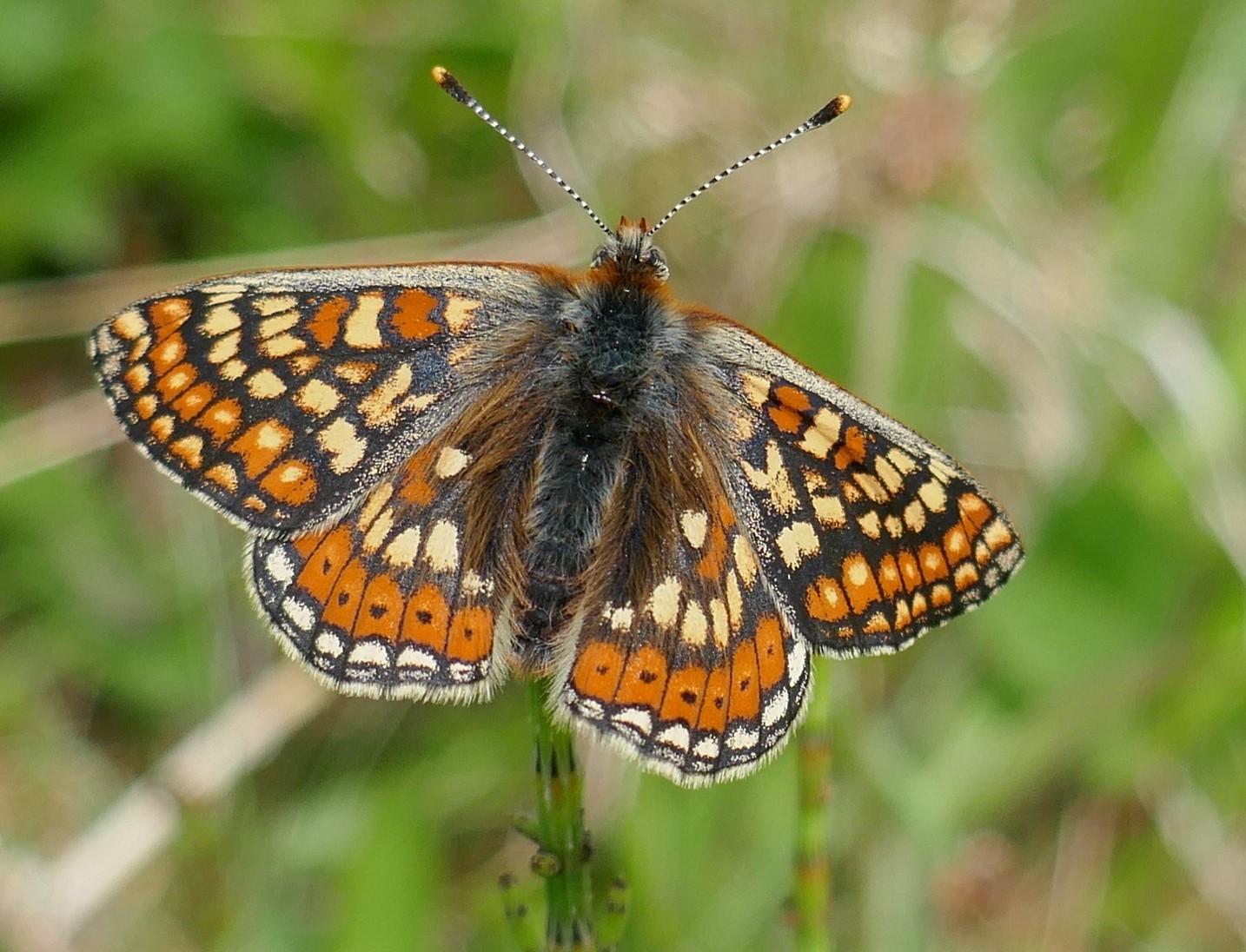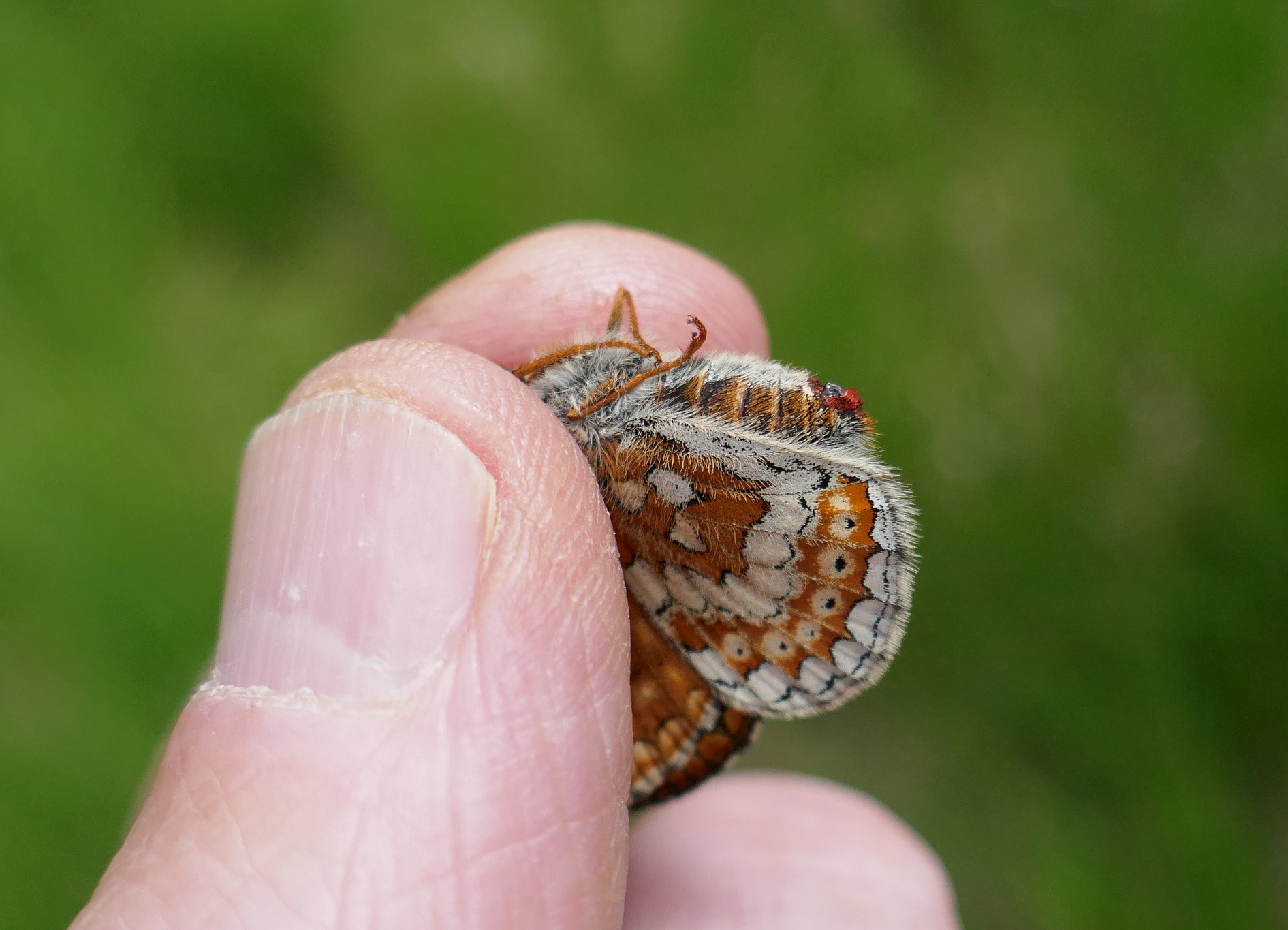 We reached the silt pond which has an adjoining luxuriance of Common Bird's-foot-trefoil, a fuel station for passing traffic and resident butterflies and moths alike. Nuzzling its furry way among the fragrant yellow blooms was a rather bumbling Narrow-bordered Bee Hawkmoth. An astonishing bee mimic, it is rarely bothered by avian predators but even if pursued, it is formidably elusive in full flight.
The increasingly scarce Small Heath butterfly joined in; it shouldn't be in trouble, but like so much of our butterfly fauna, it is dwindling in distribution. The abundance of butterflies, moths, dragonflies (high numbers of Hairy Dragonflies and Four-spotted Chasers), and other groups at Lullybeg give a glimpse of what the wider countryside looked like, 30 or more years ago. There's plenty wrong, but Biodiversity Week gives us the opportunity to admire what we still have and inspires us to nurture and advocate for nature. And so does the support we receive from people with a shared passion for nature, like those whose company we had the pleasure to enjoy on Saturday. Some members travelled from Cork and Tipperary for the event, so it was wonderful that the reserve's bounty was on show, thanks to the great weather.
Thanks to everyone who attended, to everyone who worked on the reserve over the winter, and to Kildare's Heritage Officer Bridget Loughlin who organised the county's biodiversity week events.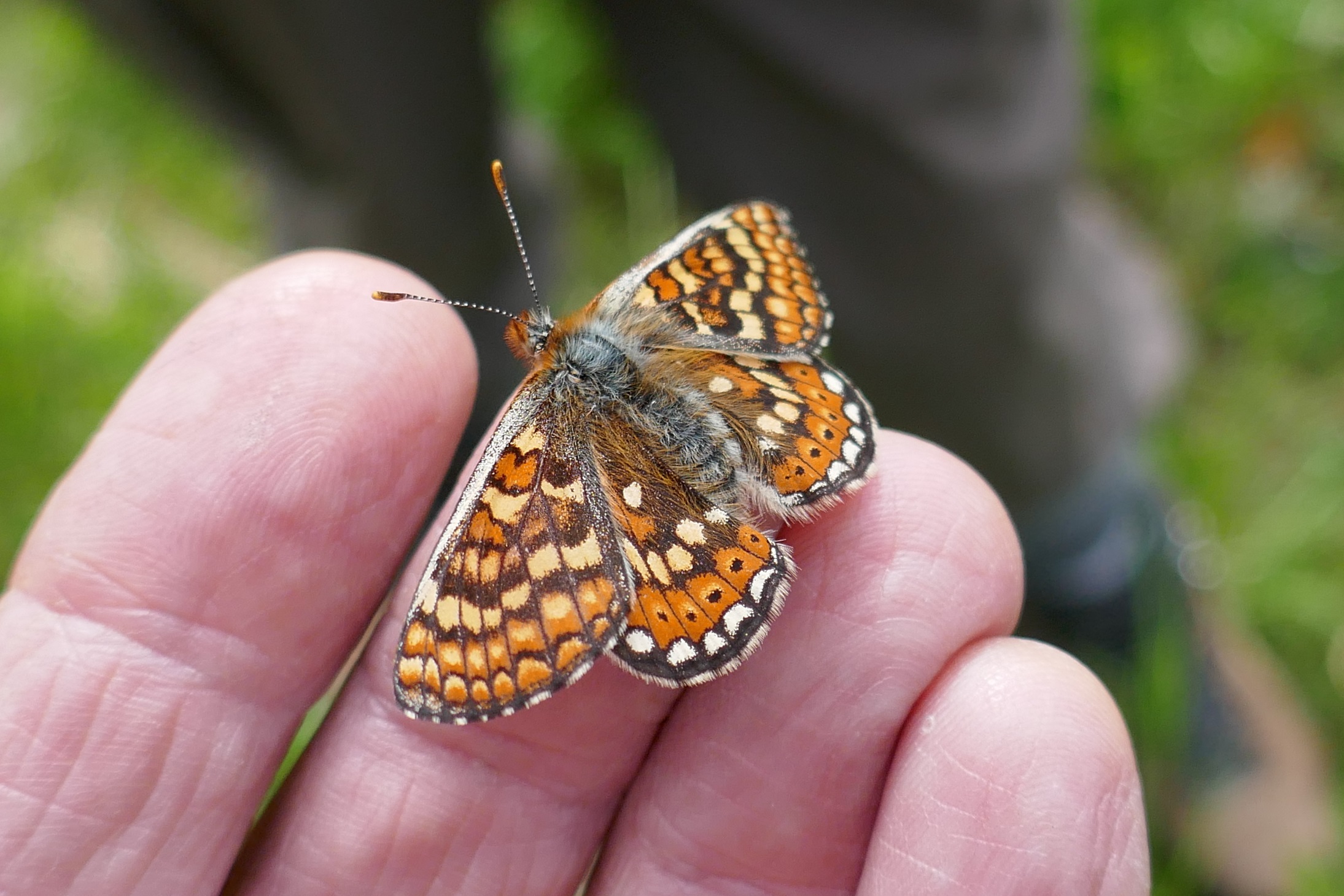 Photos J. Harding