The fairly dramatic deluges and winds of the past two weeks have altered the landscape and butterfly scene, underlining the onset of autumn. Yesterday, Sunday, October 6th, provided a welcome break, with sunshine and light breezes.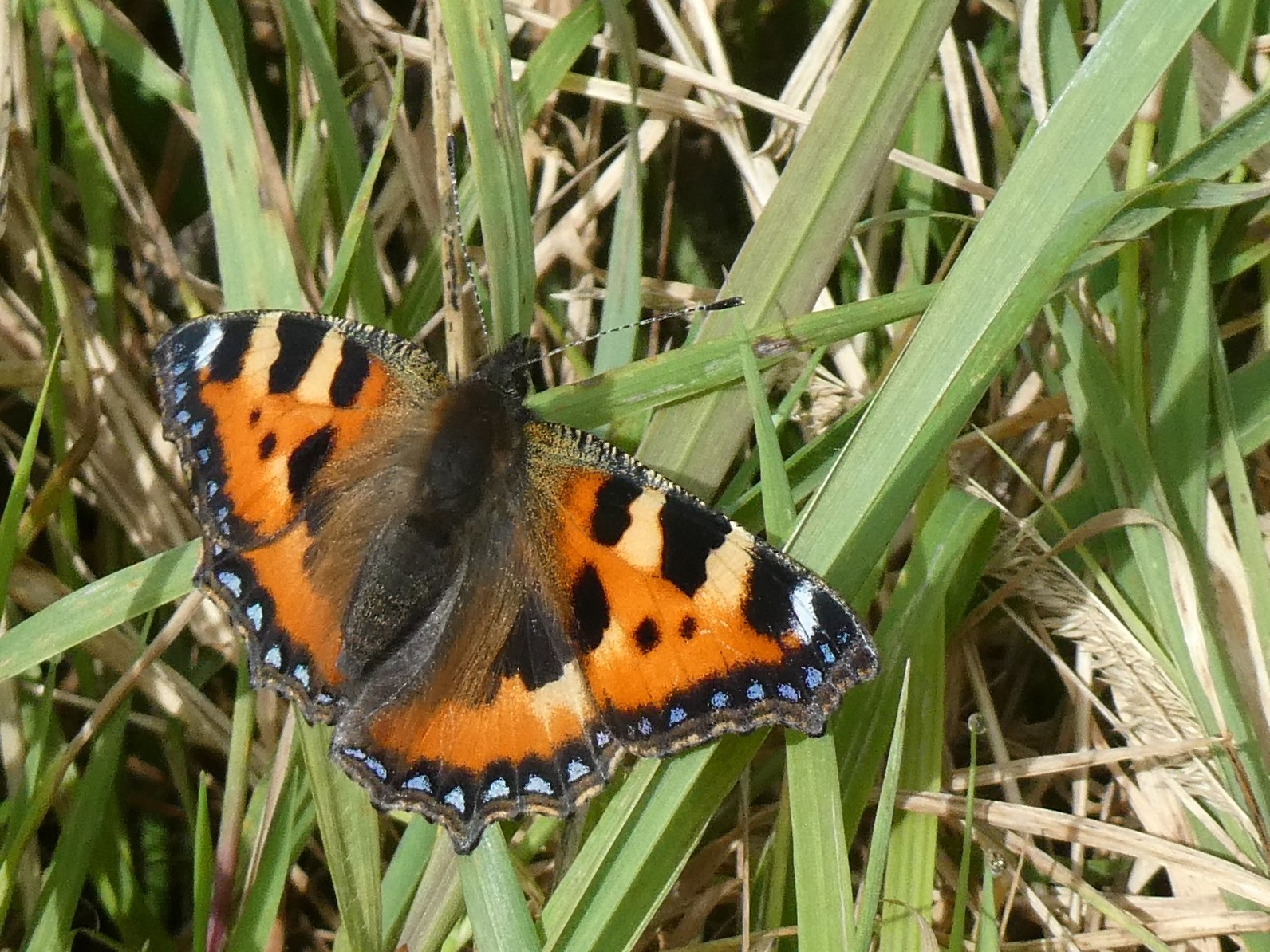 In October one must look more assiduously for butterflies, peering at shadows cast by a high-flying insect or shading eyes against sharp autumn light to check clusters of blackberries and ivy blossom for feeding moths and butterflies.
Indeed, Ivy is a very useful plant for moths, butterflies and many other creatures. At this stage many ivy plants are in full bloom, their yellowish-green inflorescence packed with nectar. At night it is a favourite with moths; in daylight, these same moths often roost in its dense, evergreen foliage. For anyone with patience, it is often well worth checking ivy draped over a wall that had Holly Blue butterflies flying around it in August and September. Check the stalk of the flowers for slug-shaped Holly Blue caterpillars. These are feeding on the developing berry, their heads deep within the oval cup, scooping out its goodness.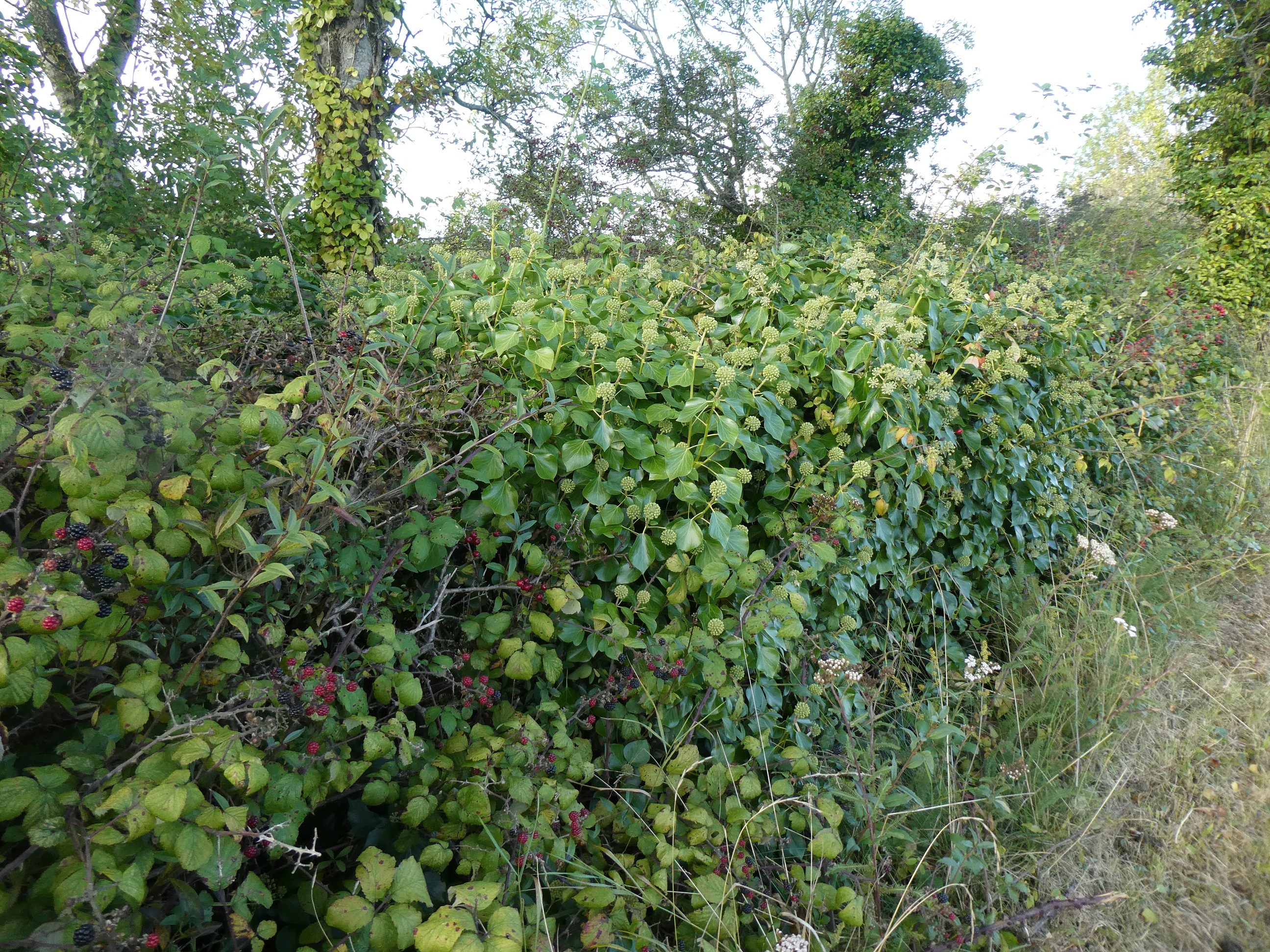 While the clouds of Painted Ladies are gone, the scarlet and black Red Admiral is still about, feeding on wounded blackberries and ivy and, if it can find it, a tree leaking sap. I saw a few of these handsome butterflies yesterday but these are easily disturbed at this time of year, often flying into tree-tops when you approach one that is lower down on bramble.
Comma butterflies, still rare or absent in most areas, are nomadic in autumn and can turn up anywhere that nectar exists near woods, dense hedgerows or groves of trees. I was lucky to see one yesterday, perching briefly on a now bedraggled buddleia before gliding casually off to hide in tall willow. The Comma will sit still at other times, especially on fallen fruit or Ice Plant flowers, giving wonderful views of its deep orange-red upper surfaces and deeply scalloped wing margins.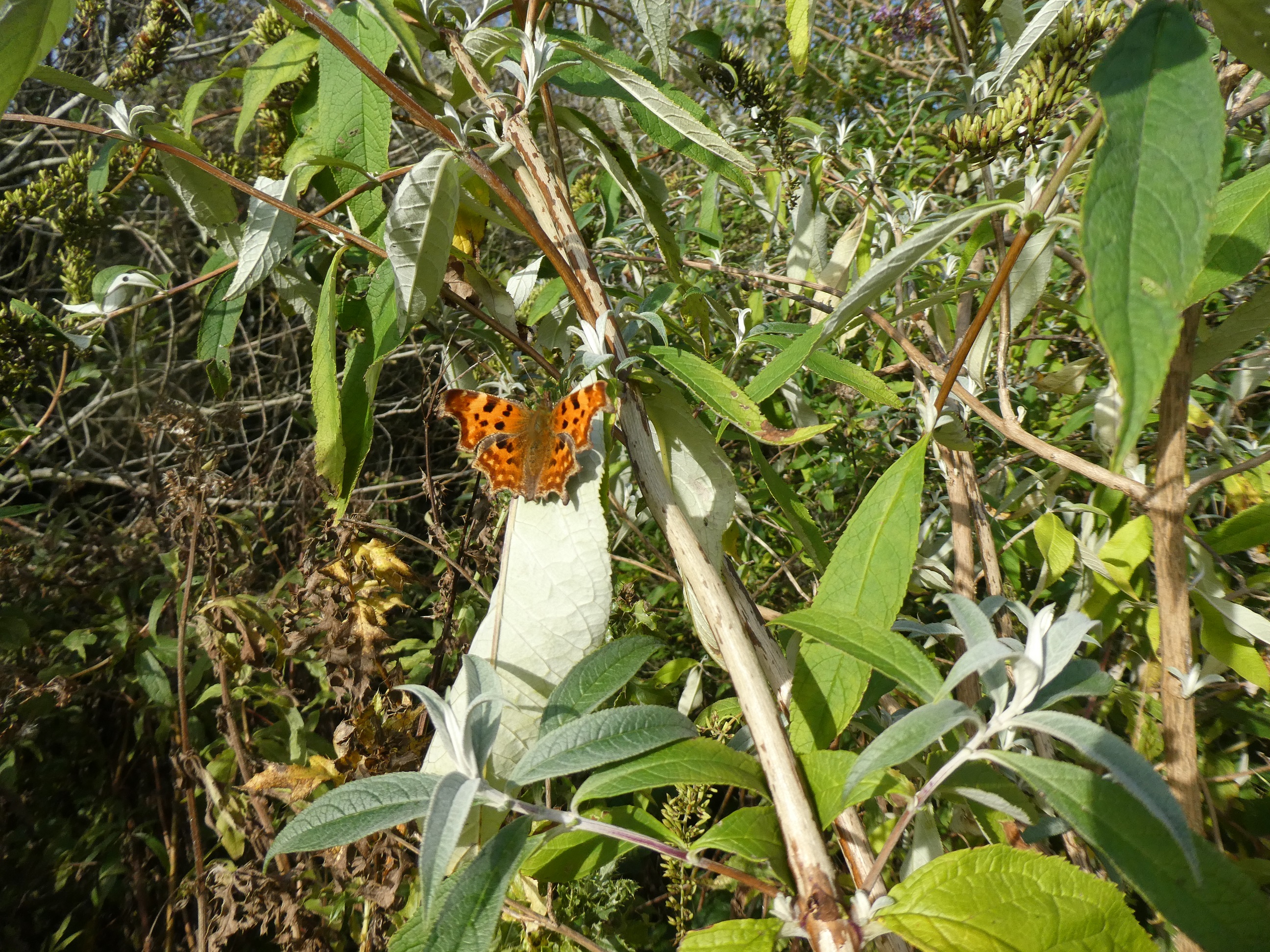 Finally, even though most butterflies have finished flying, their caterpillars can be searched for quite profitably in areas that were heavily frequented by the adults. With this in mind, I checked Common Sorrel leaves where I had seen Small Coppers loitering in early September. After finding hatched eggs on the upper sides of some leaves, I checked the undersides and soon found some young, first instar larvae. These will feed for a time before over-wintering deep in the grassy vegetation before resuming feeding in spring.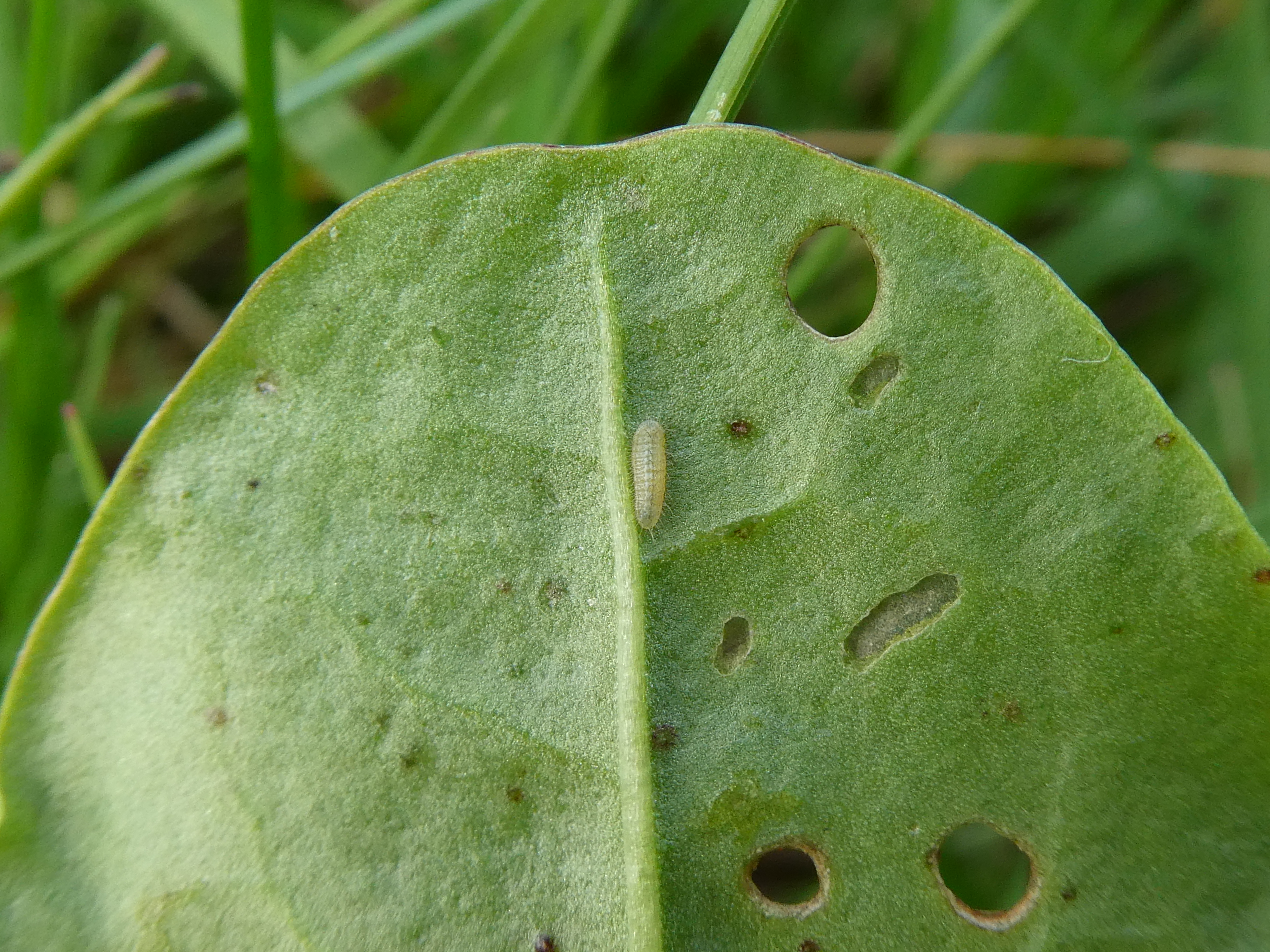 There are some lovely moths too, especially for moth trappers who leave their light traps out in good habitat on mild nights. Beaded Chestnut, with its rich wood-coloured wings, is really abundant in early October and if you are fortunate, a Merveille du Jour may turn up to brighten any October morning when you go out to inspect your catch.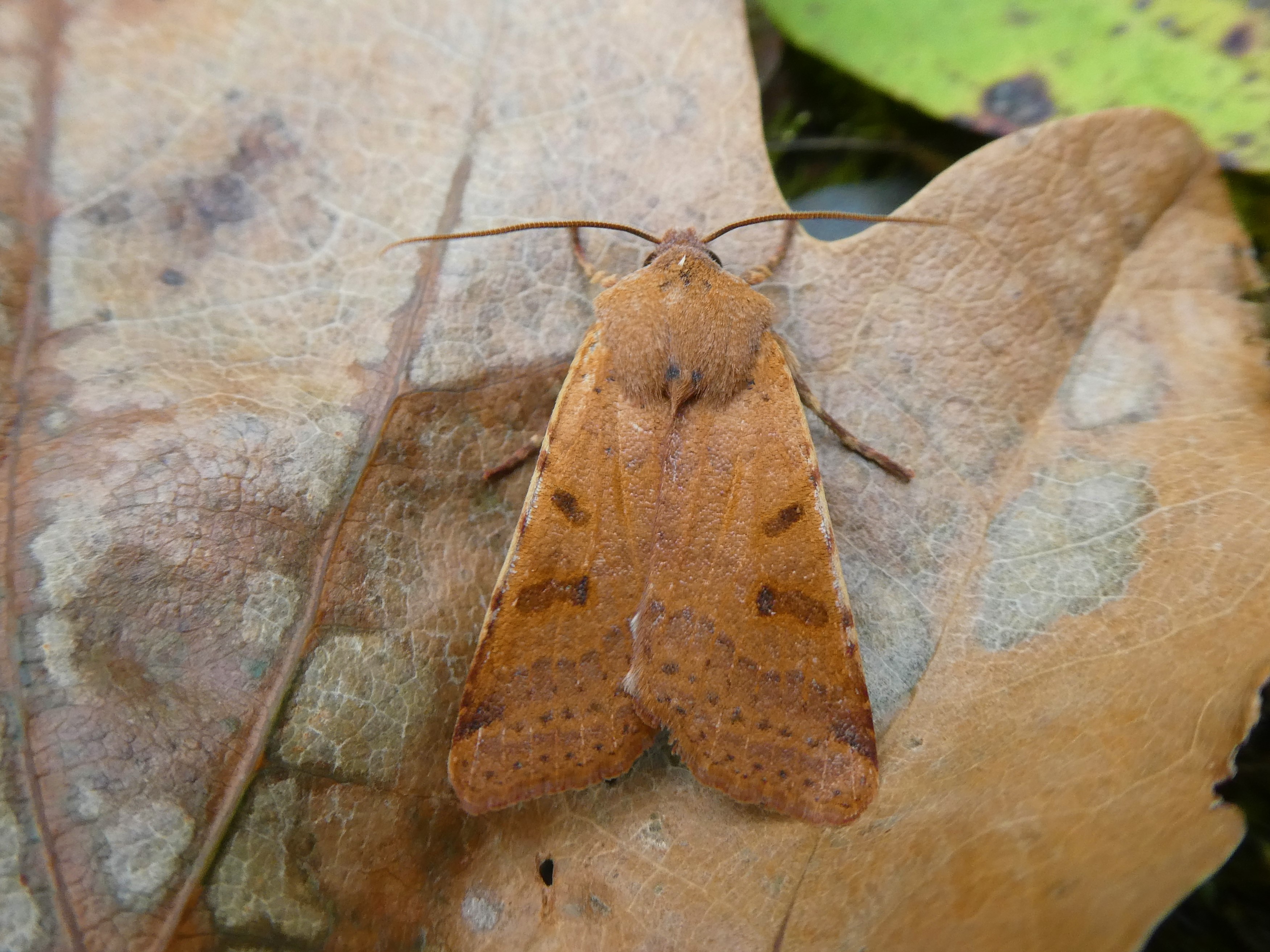 Keep on looking-autumn, the "season of mist and mellow fruitfulness" has much to offer and if one has to look harder to find it, the discoveries are all the sweeter.