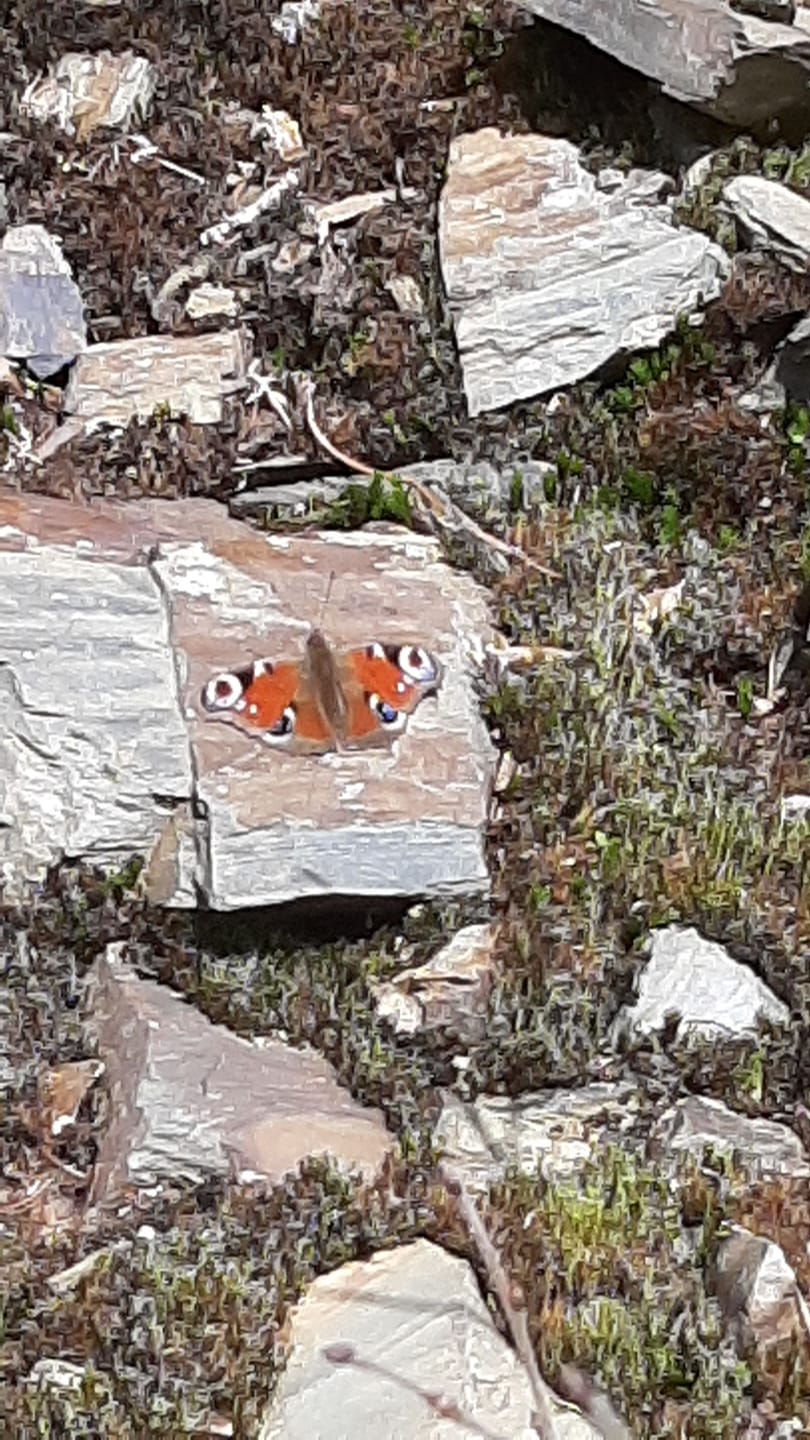 The first butterfly reported to Butterfly Conservation Ireland in 2020 is a Peacock near Minane Bridge, County Cork on February 27th. The butterfly in this photo was seen on March 5th in the same area.  The Peacock in this photograph is clearly in need of warmth. It is basking on a rock, absorbing heat mainly from the surface of the rock.  It obtains a minority of the heat from the direct sun shining on its upper wing surfaces.
In early spring, Peacocks rarely spend long in the open. The butterfly basks and feeds, remaining close to its hibernation site.  When it gets cool, the butterfly will return to its resting place. It will not stray far until there are some days of sustained warmth and sunshine. When conditions become consistently warmer, the Peacock departs to find food and breeding sites.
Good areas to look for Peacocks during March are sunny rides and clearings in woodland.  When the days lengthen, the Peacock will be found in more open areas where it can be found in company with its close relative, the Small Tortoiseshell, another butterfly that passes the coldest months as an adult.
The appearance of these colourful butterflies is a great tonic after a bleak and tempestuous winter.  To help them, allow your willow to flower, do not cut flowering dandelions and provide extra nectar in the form of native primroses and non-native flowers such as grape hyacinth Muscari neglectum. Nettle patches should be allowed to develop in warm, sunny areas to encourage breeding.
Finally, let us know of your sightings by emailing us at conservation.butterfly@gmail.com with the following information:
your name/s,
date of the find,
species found,
the life stage/s found,
numbers seen,
location the butterfly/moth was found (e.g. townland name, site name, county),
six-figure grid reference, including the letter identifying the 100,000-metre grid square in which the location lies (see https://irish.gridreferencefinder.com or Discovery Series maps)
weather conditions
and any other interesting comments you wish to provide.
Example: John Smith, 14/06/12, 14 Small Blues, 15 Small Heaths, Portrane sand dunes, O254515, County Dublin. Small Blues feeding on Kidney Vetch and Creeping Thistle. Sunny, light breeze, around 18 degrees Celcius.
It will be greatly appreciated if you are sending in your records of several species by listing the butterflies observed in the following order:
Small Skipper, Essex Skipper, Dingy Skipper, Common Swallowtail, Wood White, Cryptic Wood White, Clouded Yellow, Brimstone, Large White, Small White, Green-veined White, Orange-tip, Green Hairstreak, Brown Hairstreak, Purple Hairstreak, Small Copper, Small Blue, Common Blue, Holly Blue, Red Admiral, Painted Lady, Small Tortoiseshell, Peacock, Comma, Pearl-bordered Fritillary, Dark Green Fritillary, Silver-washed Fritillary, Marsh Fritillary, Speckled Wood, Wall Brown, Grayling, Hedge Brown/Gatekeeper, Meadow Brown, Ringlet, Small Heath, Large Heath, Monarch.
These records will contribute to a national butterfly atlas which will cover the period 2017-2021. This should provide a clearer indication of how Ireland's butterflies are performing in an era of profound change.