The new book on Ireland's butterflies, The Irish Butterfly Book, is available now.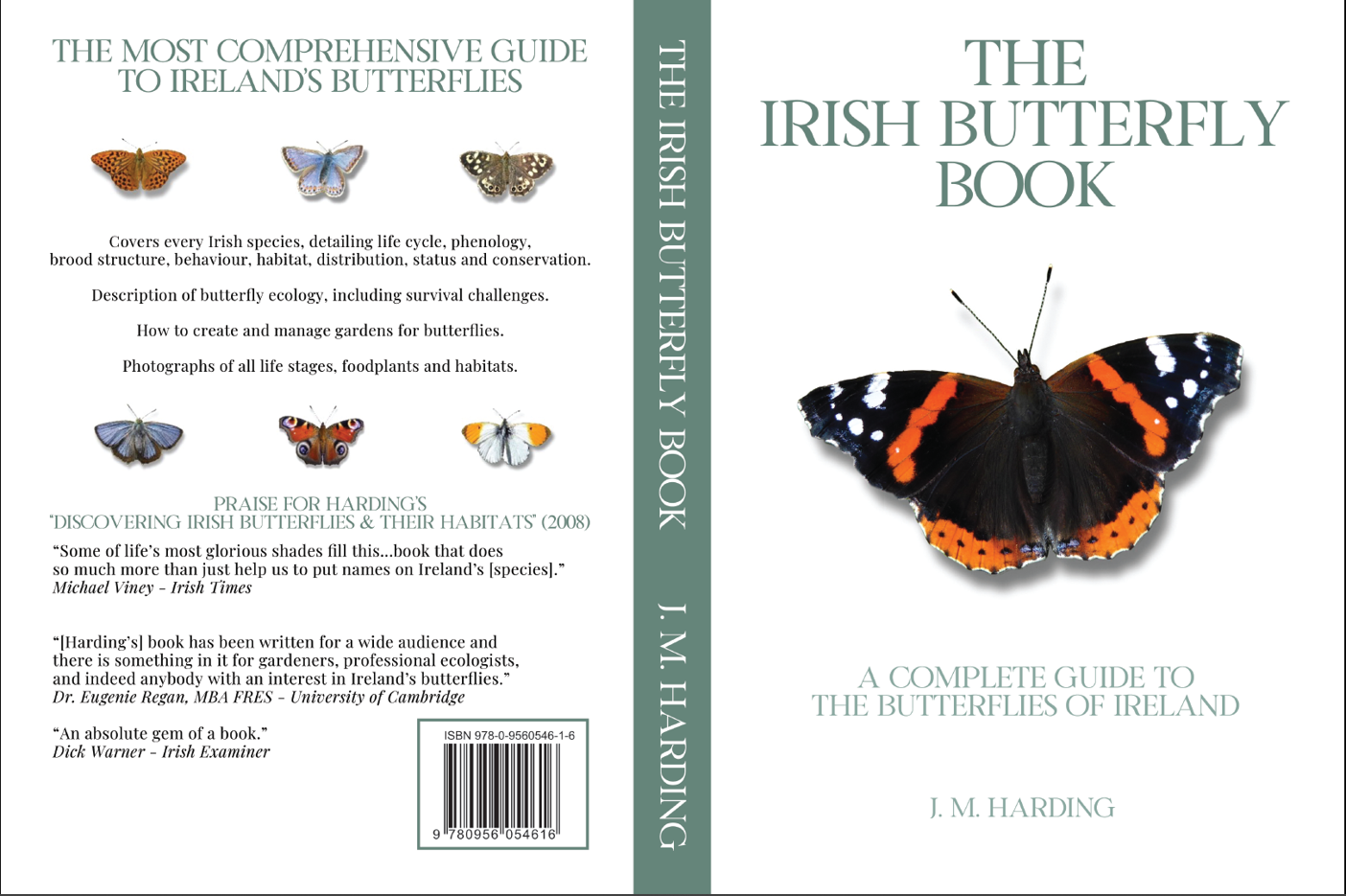 Here is some of what Michael Viney said about The Irish Butterfly Book in The Irish Times:
Harding is quite used to overwintering small tortoiseshells and feels "a burst of delight to watch the butterfly surge into the sunshine in spring". It's part of the 25 years of his study that distinguishes a €35 quality paperback on sale from his home in Co Kildare.
The Irish Butterfly Book is definitive, engaging and heavy with glossy illustration. It covers the ecology, life cycles and food plants of Ireland's 35 butterfly species, many of them around Harding in the midlands and more in some 40 habitats from Cork to Donegal. The sites are mapped and photographed, along with their likely species.
It's a book full of knowledge, from Harding's own painstaking observation and also new lepidopteral research. Most people are content just to have a name for a butterfly, but his essays on each species open up fresh worlds of interest, observation and mystery. Butterflies, their caterpillars and chrysalises don't lead such casual lives after all.
The review is here: https://www.irishtimes.com/news/environment/another-life-what-to-do-if-you-disturb-a-butterfly-s-winter-slumber-1.4759961
Here is an extract from a review of the book by Seán Lysaght ( Seán is a poet and nature writer. His prose includes Eagle Country (2018) and Wild Nephin (2020). He has published several collections of poems and translations with Gallery Press, including The Mouth of a River (2007) and Carnival Masks (2014). His forthcoming collection, New Leaf,  was published by Gallery in May 2022).
Ireland's butterflies have now got the study they deserve in this extraordinary, landmark publication by Jesmond Harding. Harding, who is indisputably the leading national authority on the subject, has been studying and recording this insect group for many years; remarkably, in an age of specialism and science, he works independently of any institution. His Irish Butterfly Book is the latest in a long and distinguished amateur line of Irish natural history, which includes William Thompson's Natural History of Ireland (1849-56), Robert Lloyd Praeger's Irish Topographical Botany (1901), RF Ruttledge's Ireland's Birds (1966), and Zoë Devlin's Wildflowers of Ireland (2014).
Harding's Irish Butterfly Book is a treasure of fascinating detail and no doubt will motivate many wonderful summer excursions in future years; it will be an indispensable reference book for experienced nature watchers, and it should charm and inspire less specialist lovers of Ireland's natural heritage. In time, also, it is to be hoped that this superb book will have a future life as a redesigned pocket guide, perhaps in a second edition from a commercial publisher.
The mysterious behaviour of Ireland's butterflies is explored in this book.
Why do some female Speckled Woods flaunt themselves at males, while others behave so evasively?
Can Brimstone butterflies forecast the weather?
How do male Small Coppers react to persistent attacks from larger males?
Why do some Small Tortoiseshells hibernate in July, months before they hibernate in other places nearby?
How does the male Green-veined White react when he faces a highly competitive mating environment?
Do social caterpillars cannibalize?
Why do male Brown Hairstreaks ignore females after 11 am?
Why do we never see Painted Ladies leave Ireland during autumn?
Why do some male butterflies check caterpillar foodplants?
Is the warming climate making life easier or harder for Ireland's butterflies?
The culmination of over 25 years of study and based on thousands of records, THE IRISH BUTTERFLY BOOK  documents the full life cycle of every Irish butterfly from egg to adult butterfly and includes over 400 original colour photographs. There are one or more photos for each life stage of every species making this book the first of its kind.
Among the contents of this book are:
Butterfly ecology
Gardening advice
Butterfly life cycles and behaviour
A site guide detailing the best places in Ireland to see butterflies
THE IRISH BUTTERFLY BOOK also has its own YouTube channel (linked to within the book) where you can enjoy film footage of Ireland's butterflies.
Beautifully presented and designed, with large font size and accessible text, this book is a great addition to the Irish wildlife bibliography.
Available directly from the author. ISBN 978-0-9560546-1-6. Softback. Full-colour printing, 328 pages. €35 inclusive of postage within the Republic of Ireland.
Contact: jesmondmharding@gmail.com.
Also available in selected bookshops. These are listed below.
For more, see https://www.facebook.com/profile.php?id=100078056964282
Book Sample Pages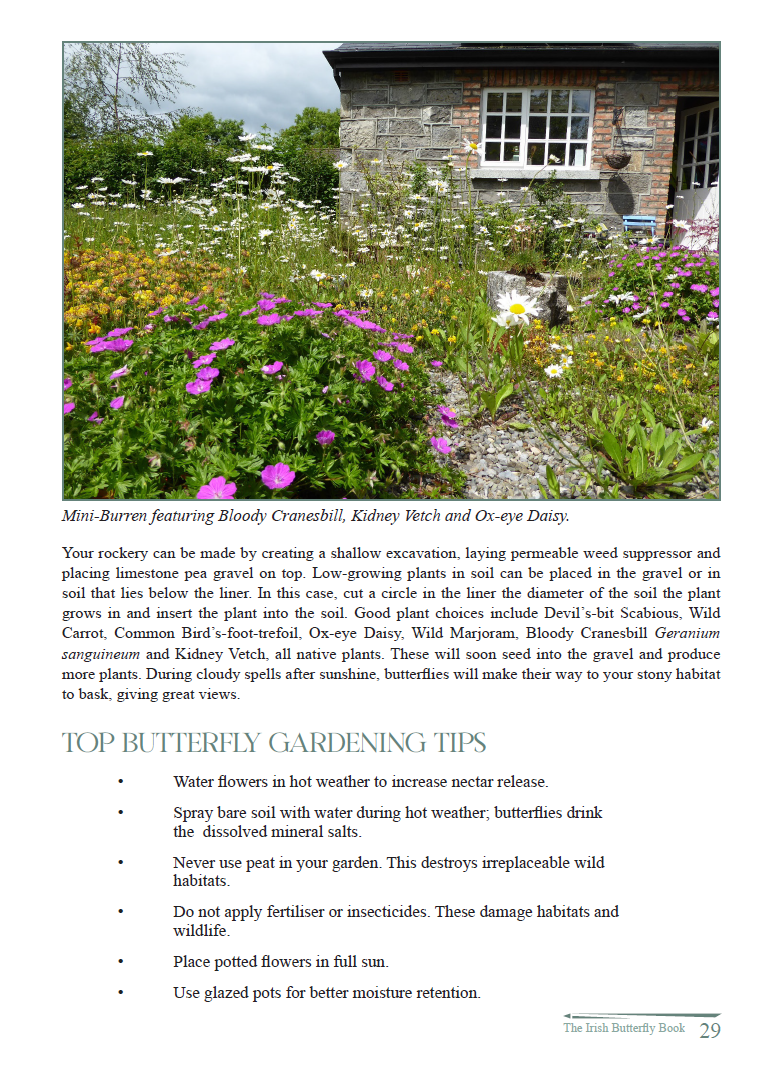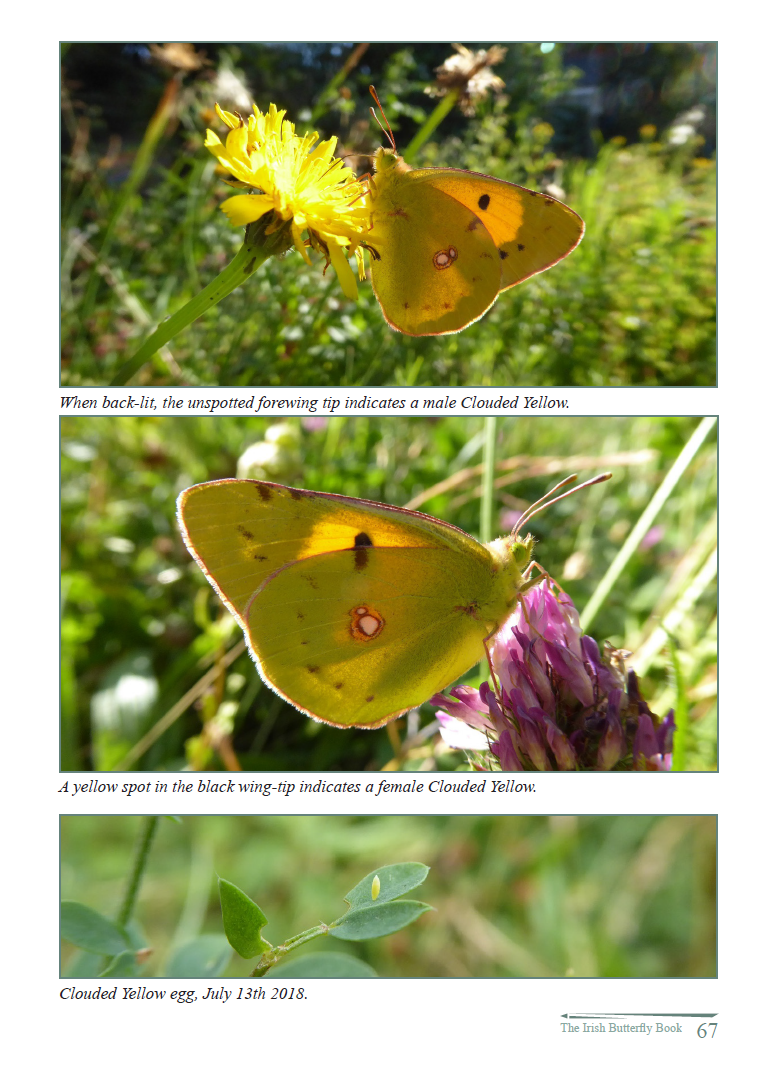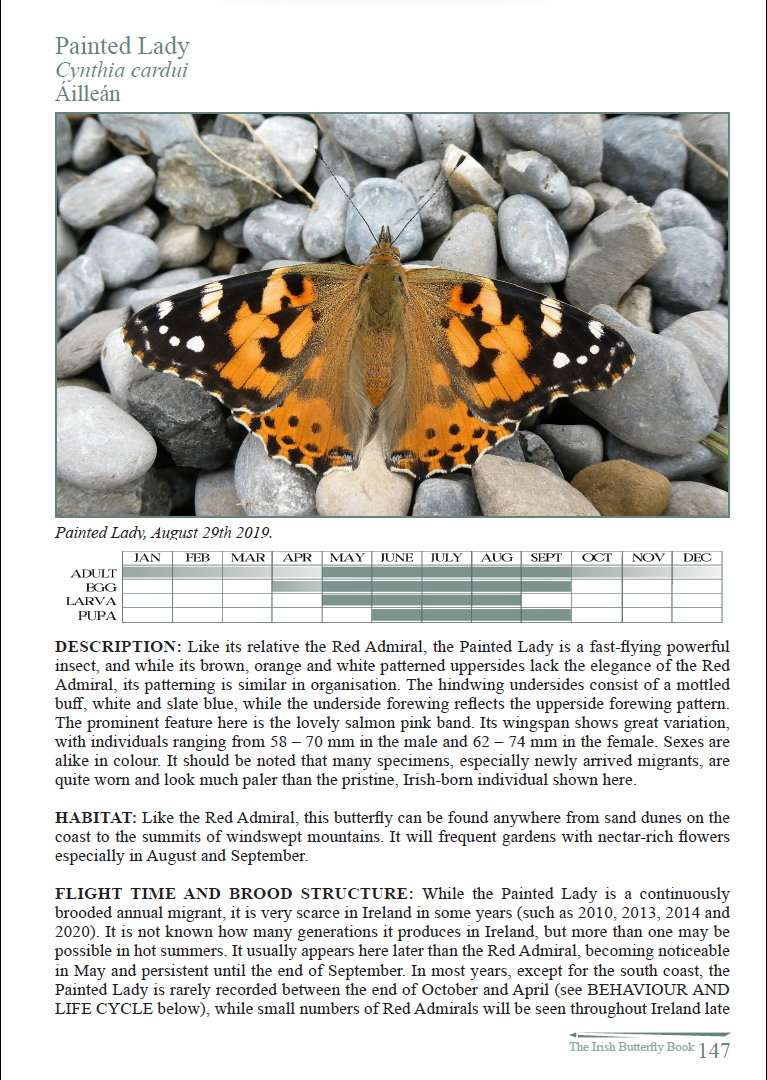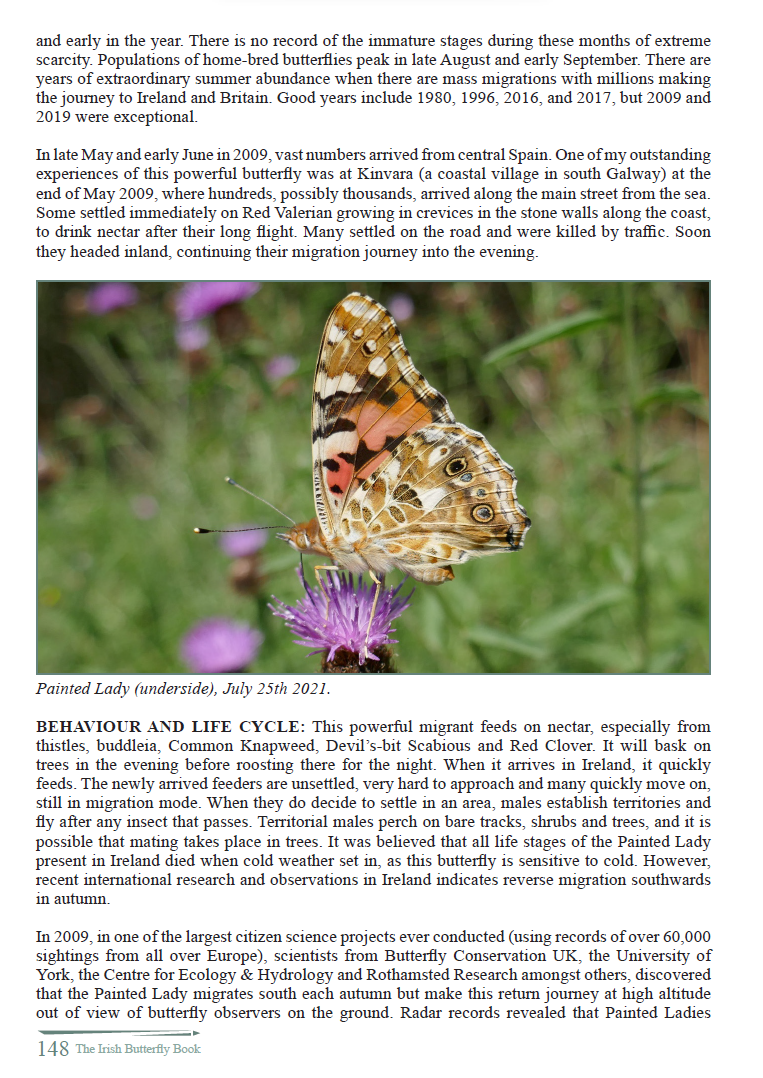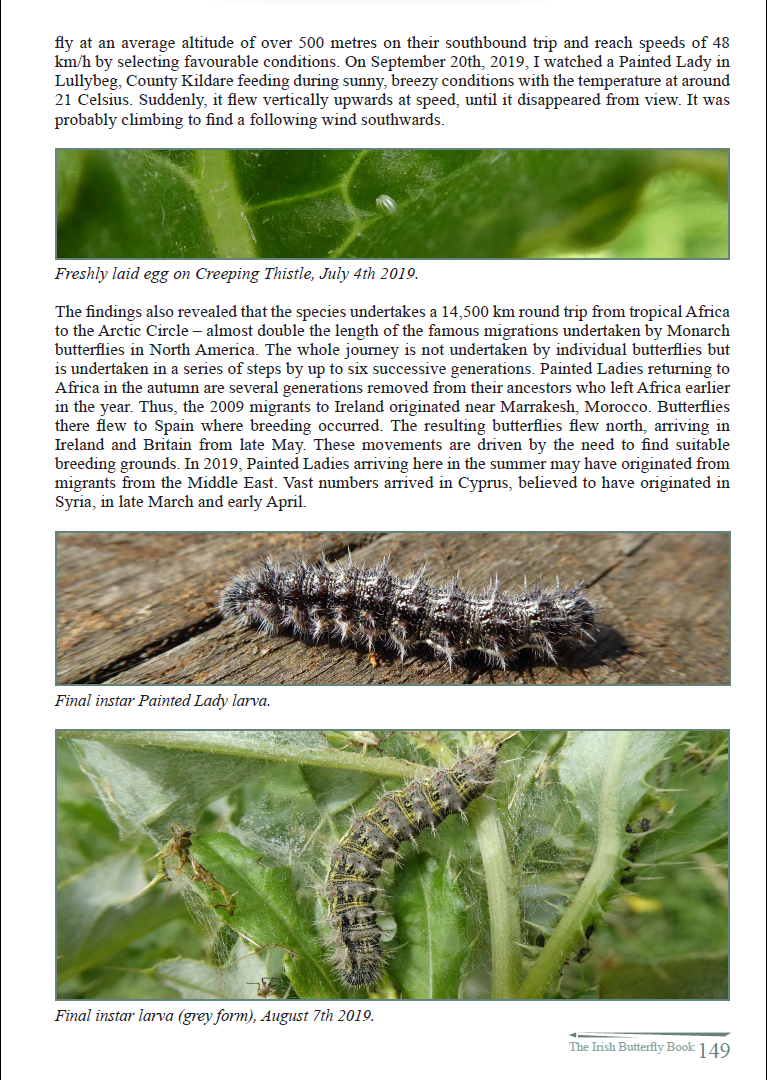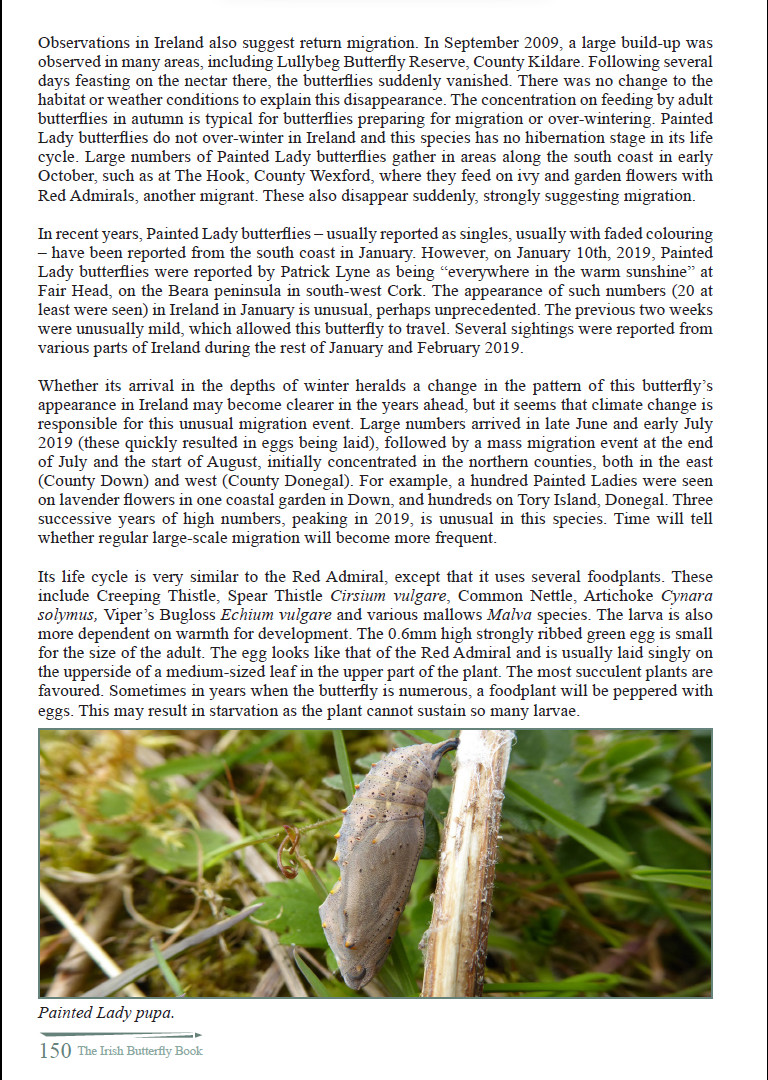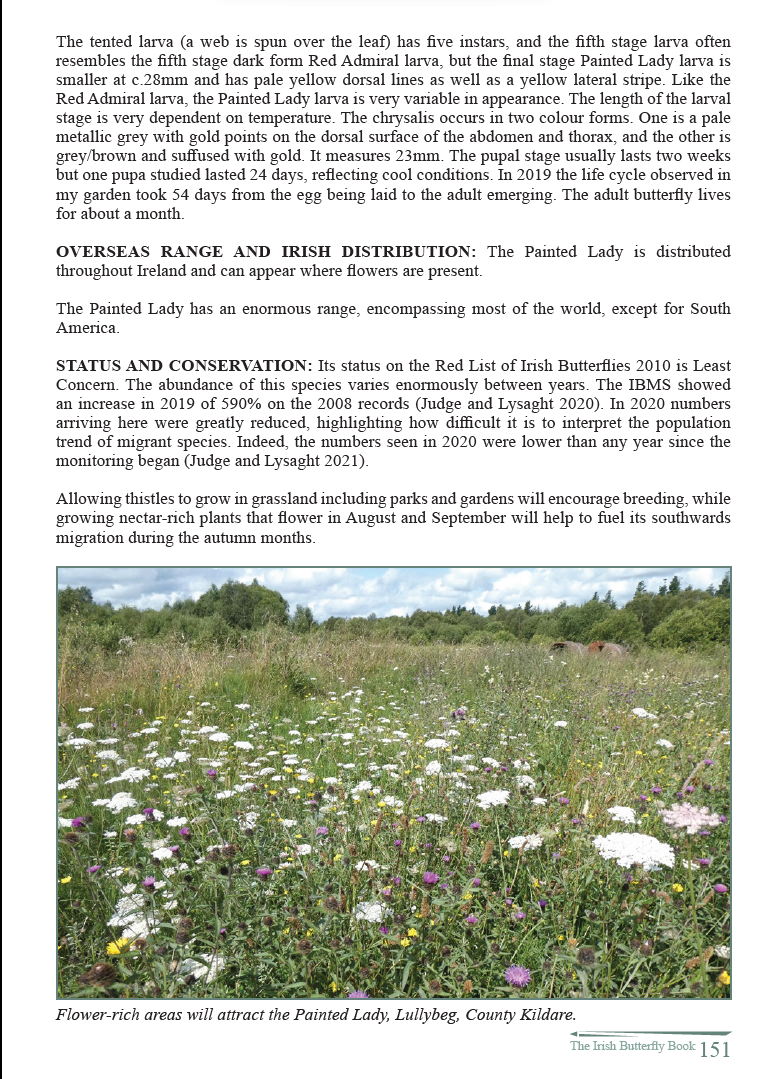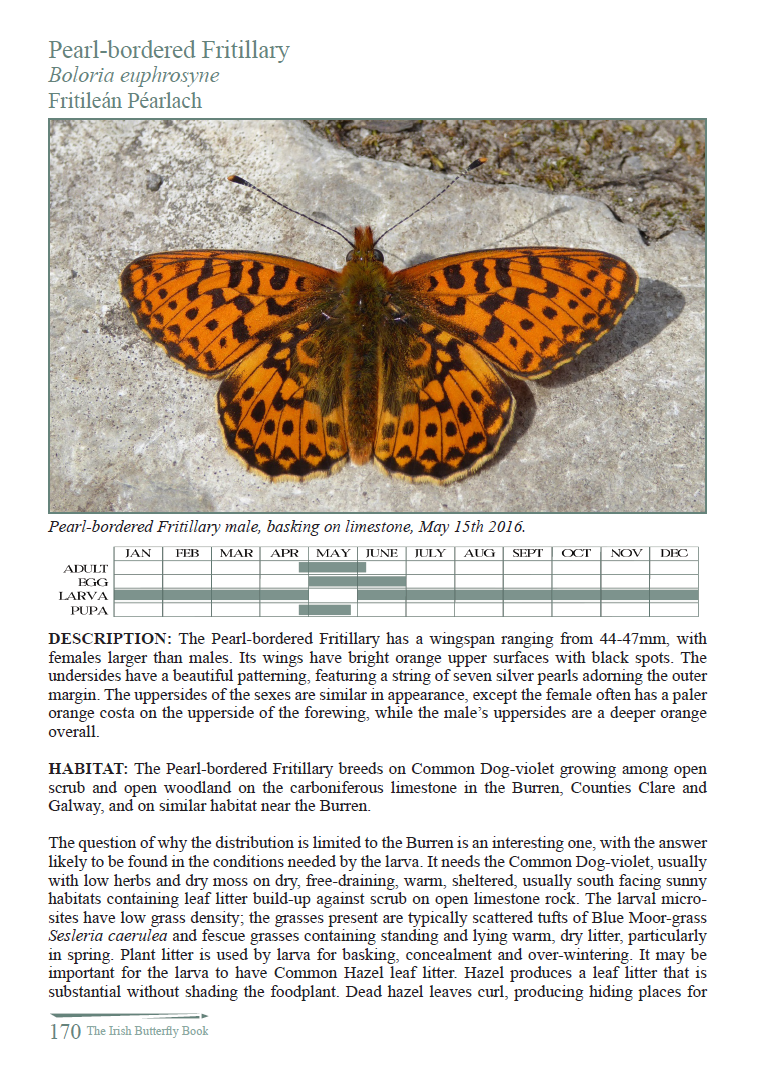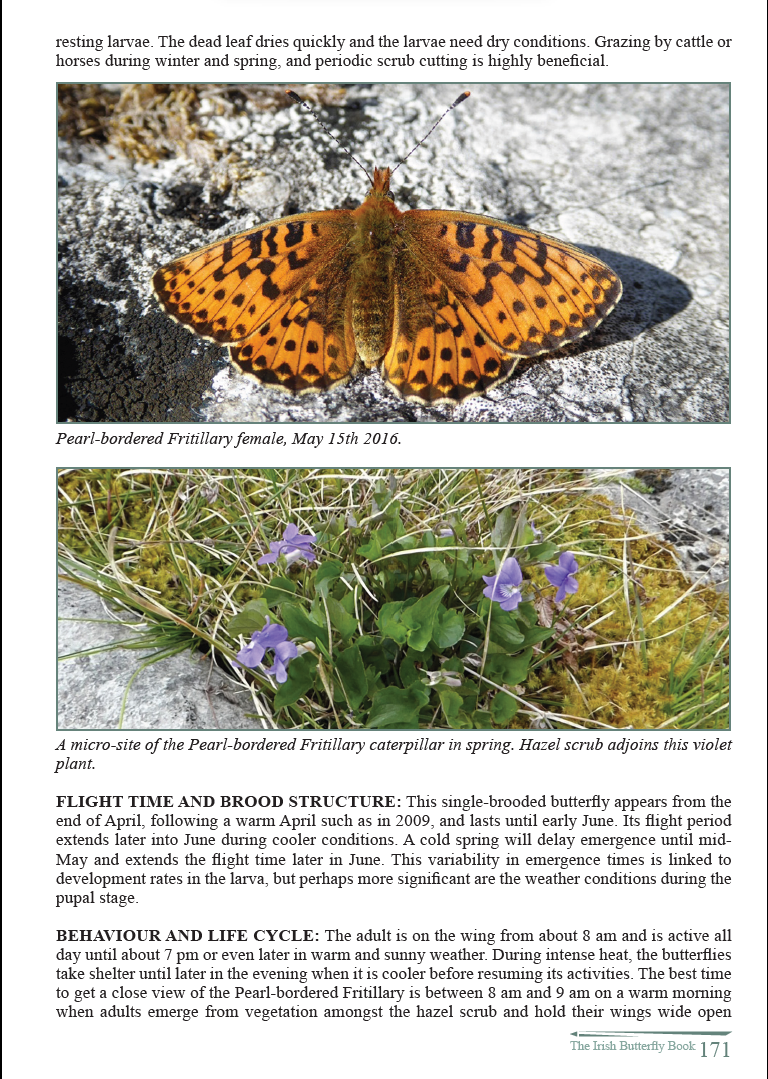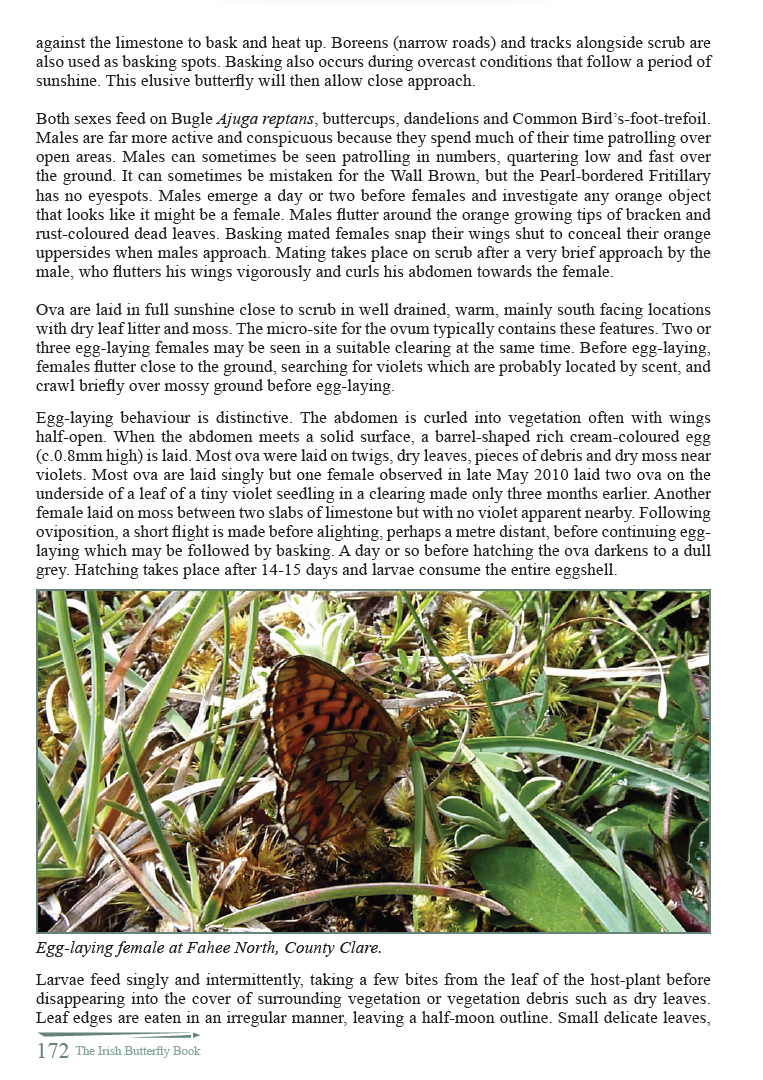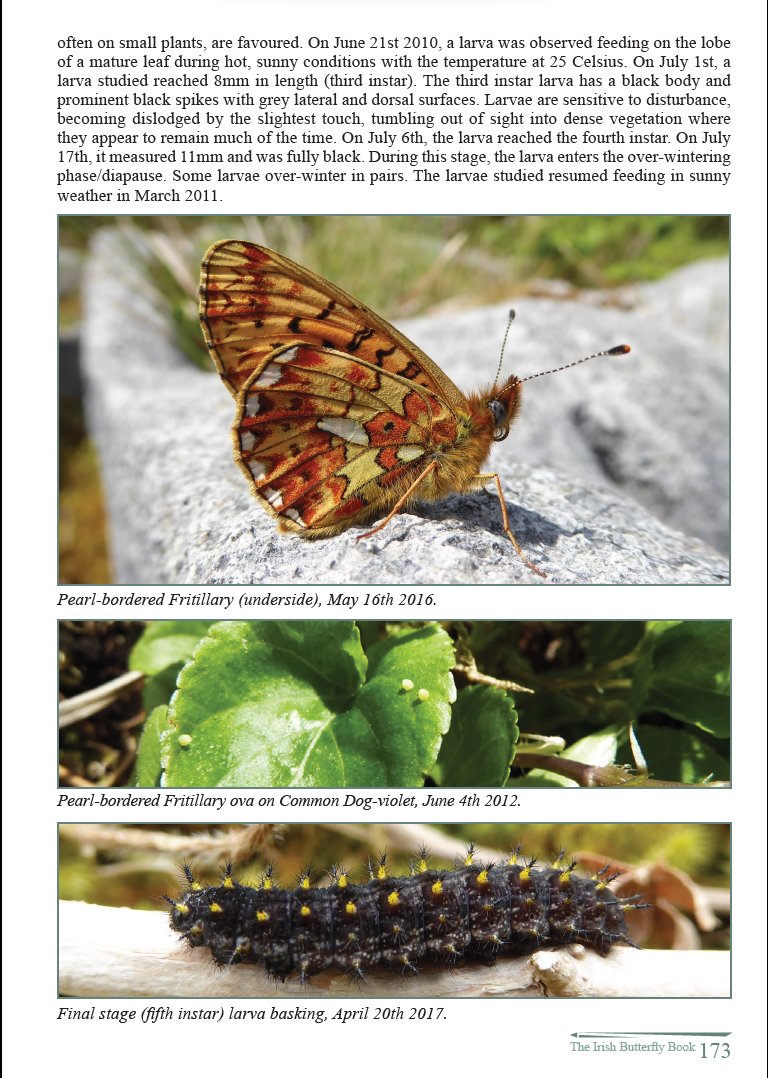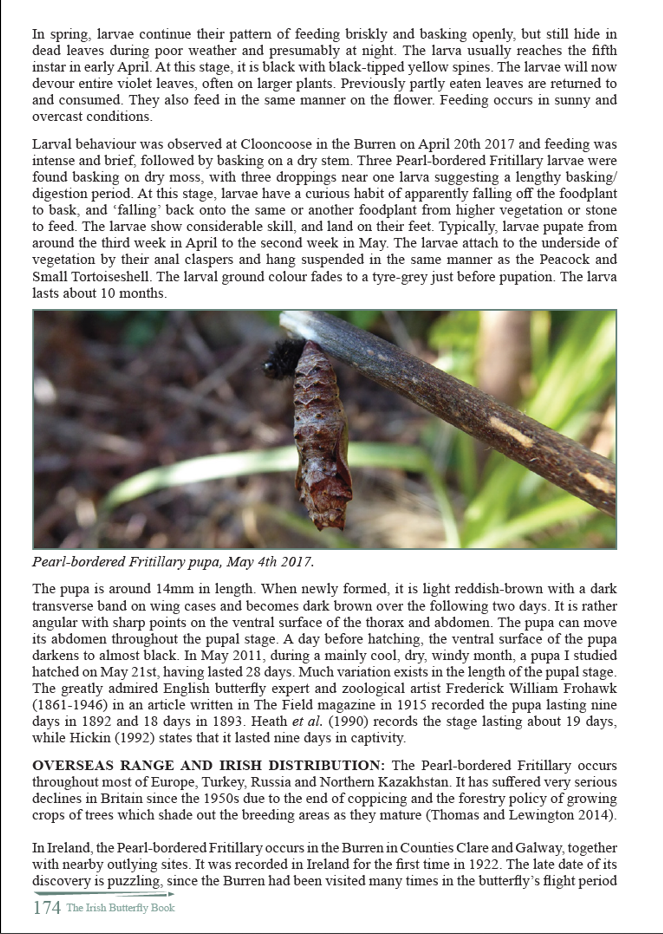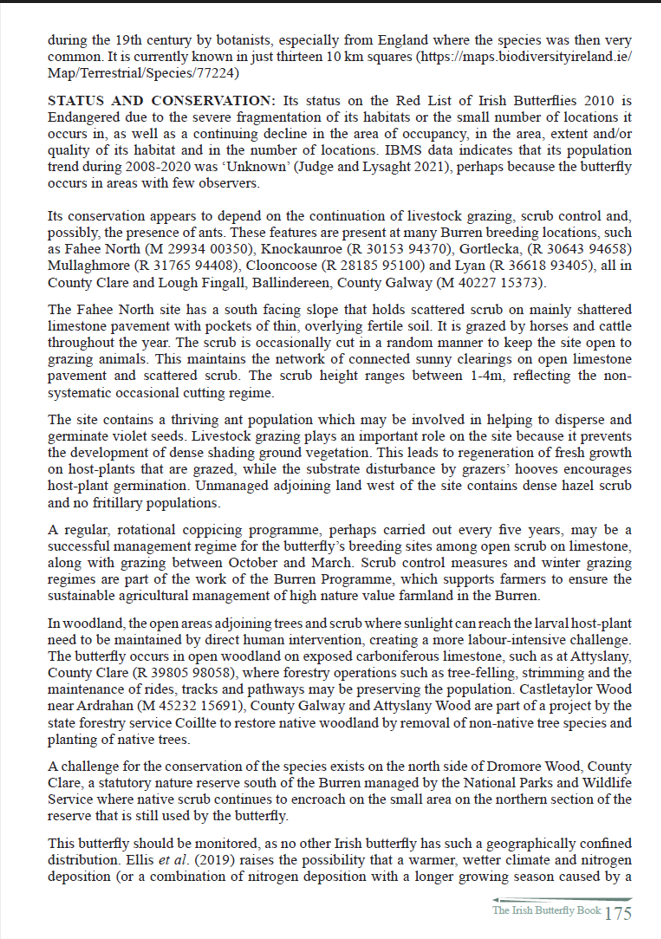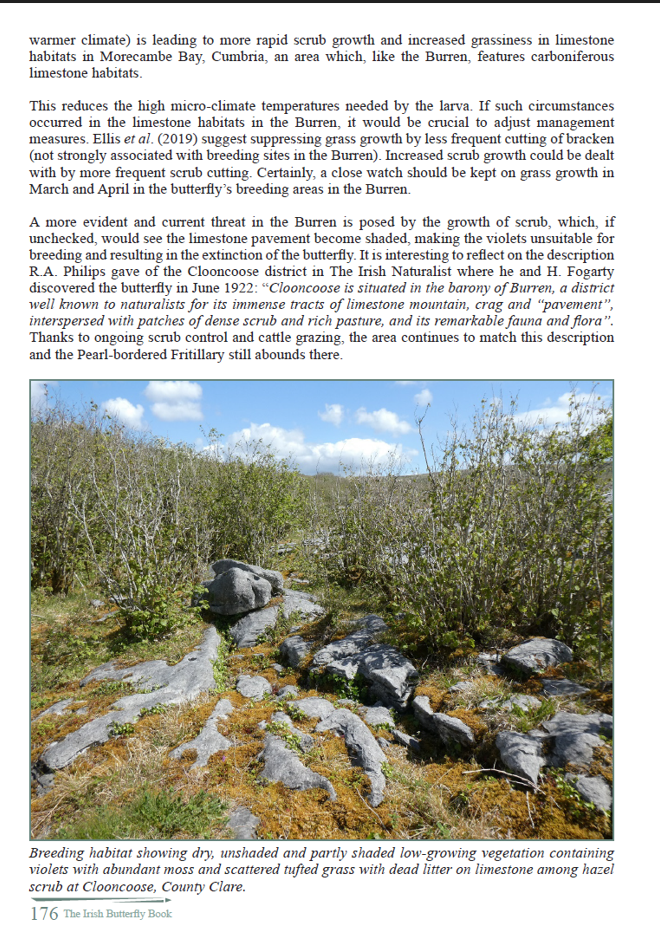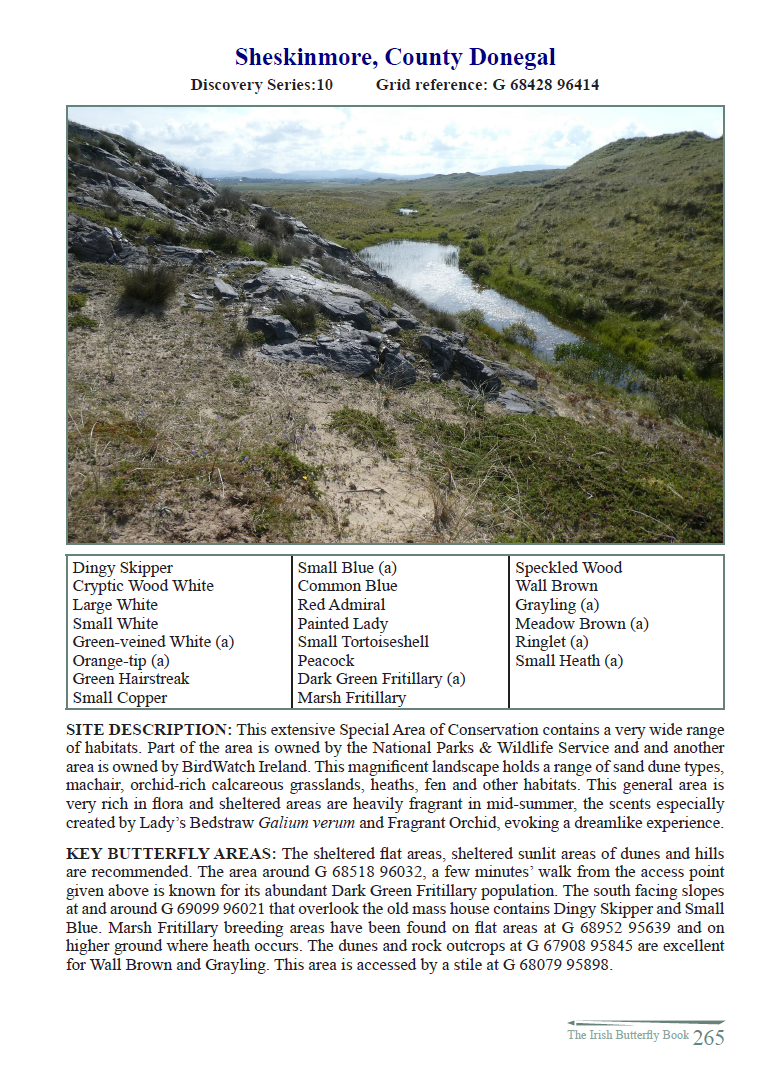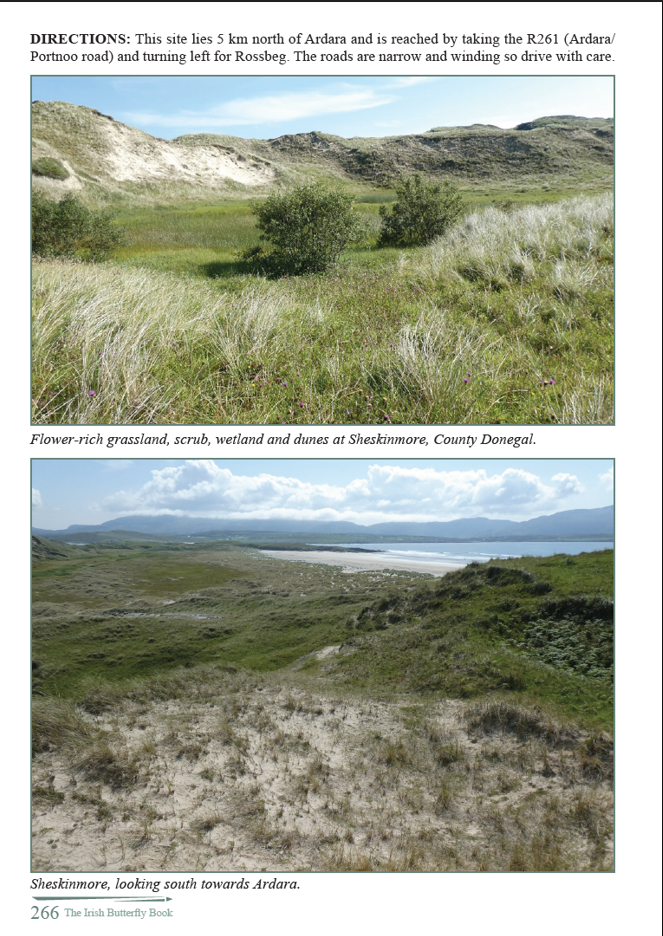 Text and photographs © J. Harding
The book is also available from:
Antonia's Bookstore, Navangate, Trim, Co. Meath
Bandon Books, Cloghmacsimon, Bandon, Co. Cork
Banner Books, The Square, Ennistymon
Bargain Books, High Street, Butter Slip, Kilkenny
Barker and Jones, 2 Poplar Square, Naas East, Naas, Co. Kildare
Books Upstairs, 17 D'Olier Street, Dublin 2
Bridge Street Books, Bridge Street, Wicklow Town
Charlie Byrne's Bookshop, The Cornstore, Middle St, Galway City
Constantia, Unit 2, Supervalu Plaza, Navan Rd, Dunboyne, Co. Meath
Hodges Figgis, Dawson Street, Dublin
Just Books, 23 Pearse St, Mullingar, Co. Westmeath
Liber books, 35 O'Connell Street, Sligo
Maynooth Bookshop, Main Street, Maynooth
Midland Books, High Street, Tullamore, Co Offaly
The Castle Bookshop, Castle St, Gorteendrunagh, Castlebar, Co. Mayo
The Ennis Bookshop, 13 Abbey St, Lifford, Ennis, Co. Clare
Swift Books, 19a Burrow Road, Sutton, Co. Dublin
Vibes and Scribes Books, 21 Lavitt's Quay, Cork
Woodbine Books, Lower Main Street, Kilcullen, Co. Kildare
The Irish Peatland Conservation Council: http://www.ipcc.ie/nature-shop/#!/The-Irish-Butterfly-Book/p/432271396/category=139703608
Birdwatch Ireland: https://birdwatchireland.ie/shop/