Based on four key climatic indicators, temperature, sunshine, rainfall and wind speed, the favourability index for butterflies is highest in June, July and August. More species fly in July than any other month. Thirty-one species are in flight in July, with some species having their abundance peak in July. The Comma first generation, the Silver-washed and Dark Green Fritillaries, Essex and Small Skipper hit their numerical heights in July.
Here we profile a selection of July flyers.
Silver-washed Fritillary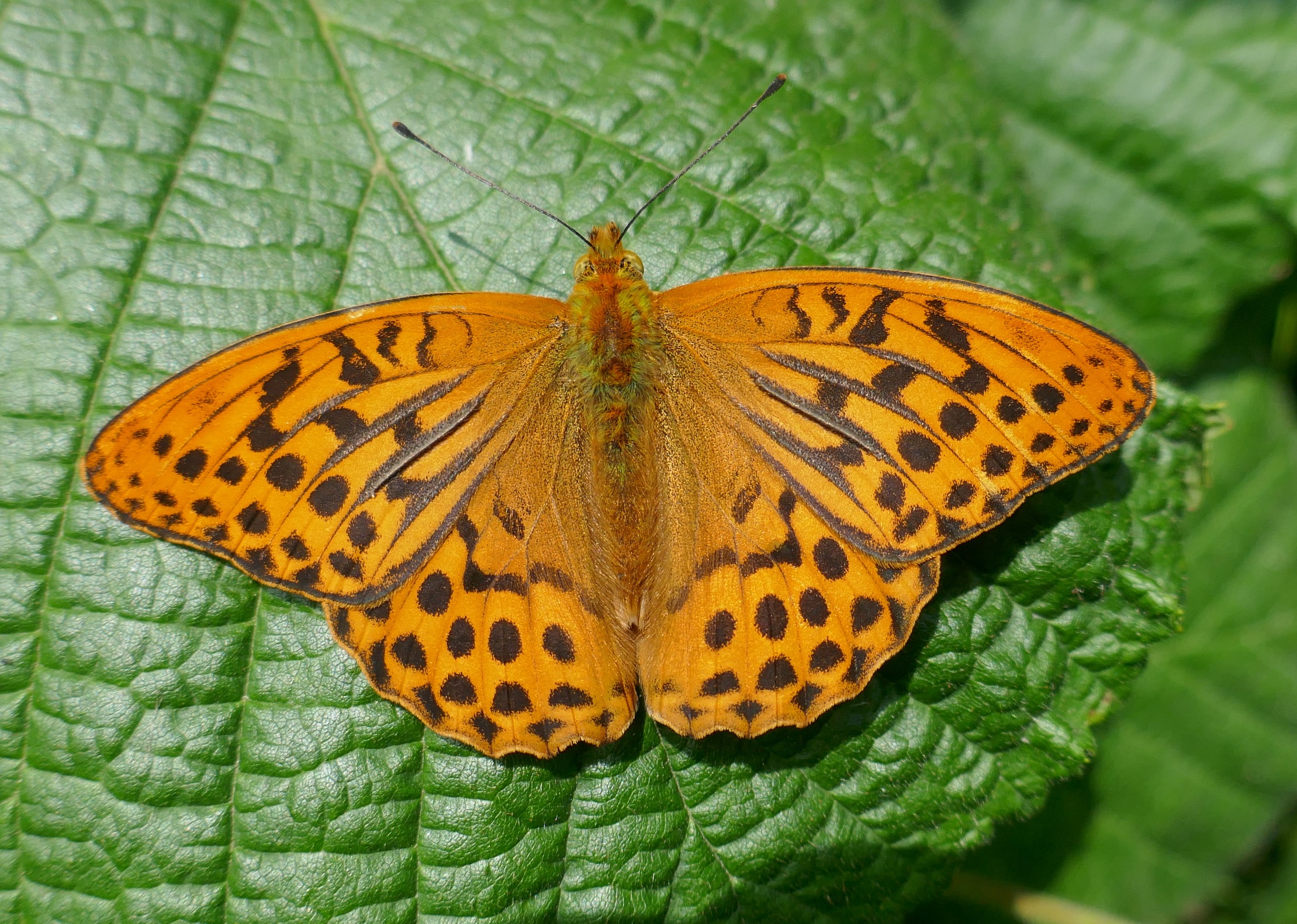 A large, colourful and magnificent butterfly, its flight is powerful and elegant. Whether in level or climbing flight, the Silver-washed Fritillary scores highly on pace and agility. The courtship flight is utterly unforgettable, a picture of synchronised romance, a complex ritual that has captivated generations of butterfly lovers. The female flies in a level flight, as if totally oblivious to the male, who loops repeatedly under her, then up in front of her. Woodland rides and clearing are the venues for this dance, while pairing follows in a tree, shrub, on Bracken, and occasionally on the ground.
Where to find the Silver-washed Fritillary
Open woodland, with violets plentiful in clearings and in the interior of the wood. Knocksink Wood, Enniskerry, County Wicklow, the woods around Lough Leane in Killarney, County Kerry, the oak woods at Crom in Fermanagh, Ravenwood in Wexford, the Furry Glen in the Phoenix Park, Dublin and woods with native trees and sunlit woodland floors containing violets, its larval food, throughout the country.
Comma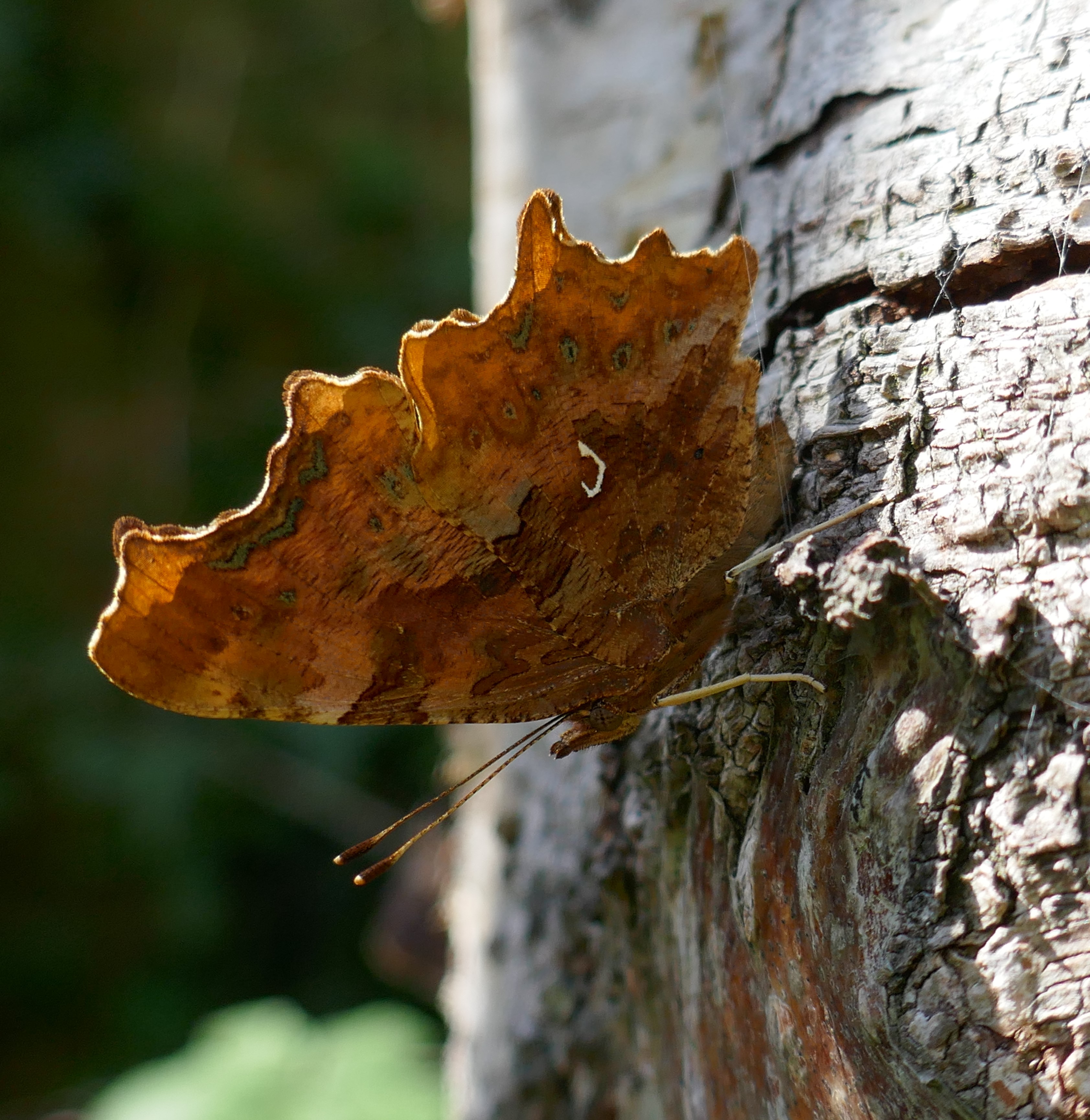 A striking butterfly, known by its underside hindwing comma marking, is perhaps the most interesting mid-summer species. Why?
It hatches in two forms, a dark form, which has an upperside ground colour of orange-red, and a light form, a golden coloured Comma named the hutchinsoni form (the hutchinsoni form, shown above, also has an underside that is lighter in colour) after Emma Hutchinson who bred the species in Herefordshire, one of its last British strongholds in the late nineteenth century. Unbelievably given its abundance in Britain today, and its increasing presence in many areas in eastern Ireland south of Louth and into the Irish midlands and beyond, it was believed to be on the brink of extinction in Britain in the 1880s, for reasons unknown. It was unknown in Ireland until 1998.
Emma Hutchinson bred vast numbers of Commas and sent them to areas of England it disappeared from. One such county is Surrey but despite a large release, the Comma did not repopulate the county.
A feature Emma Hutchinson noted is the butterfly's ability to adapt to weather conditions by producing two forms; the golden form is produced following springs and early summers with warm weather and the darker form arises when conditions are cloudy, dull, and cool. The dark-form Commas don't breed in the year of their birth, but feed briefly and hibernate. The golden Commas breed on emergence, taking advantage of fine summer weather. All offspring of the golden Commas are dark, fly in autumn and pass the winter as adult butterflies. Good spring and summer weather produces more golden Commas and two generations. Cold summers lead to fewer golden Commas, more dark Commas, and a small second generation. This account of the adaptable breeding strategy is more complex than stated here but this general outline holds good for most of our Commas.
The Comma breeds on Stinging Nettles and larvae have recently (May 2023) been recorded on elm.
 Where to find the Comma
Still scarce or absent from most of Ireland, the Comma is still expanding its Irish range following its establishment in the southeast early this century. It is common in woods in Counties Carlow, Wicklow, Wexford, Kildare and Dublin, where it is found in wooded areas such as open woodland, hedged lanes, tree-lines along rivers and other waterways, mature wooded gardens throughout these counties. Elsewhere, it is becoming more numerous although it is still not abundant. In the last few years, it has reached Counties Limerick, Clare and Down and this westwards and northwards march is expected to continue. It is most evident in March-May, July and September and October.
Dark Green Fritillary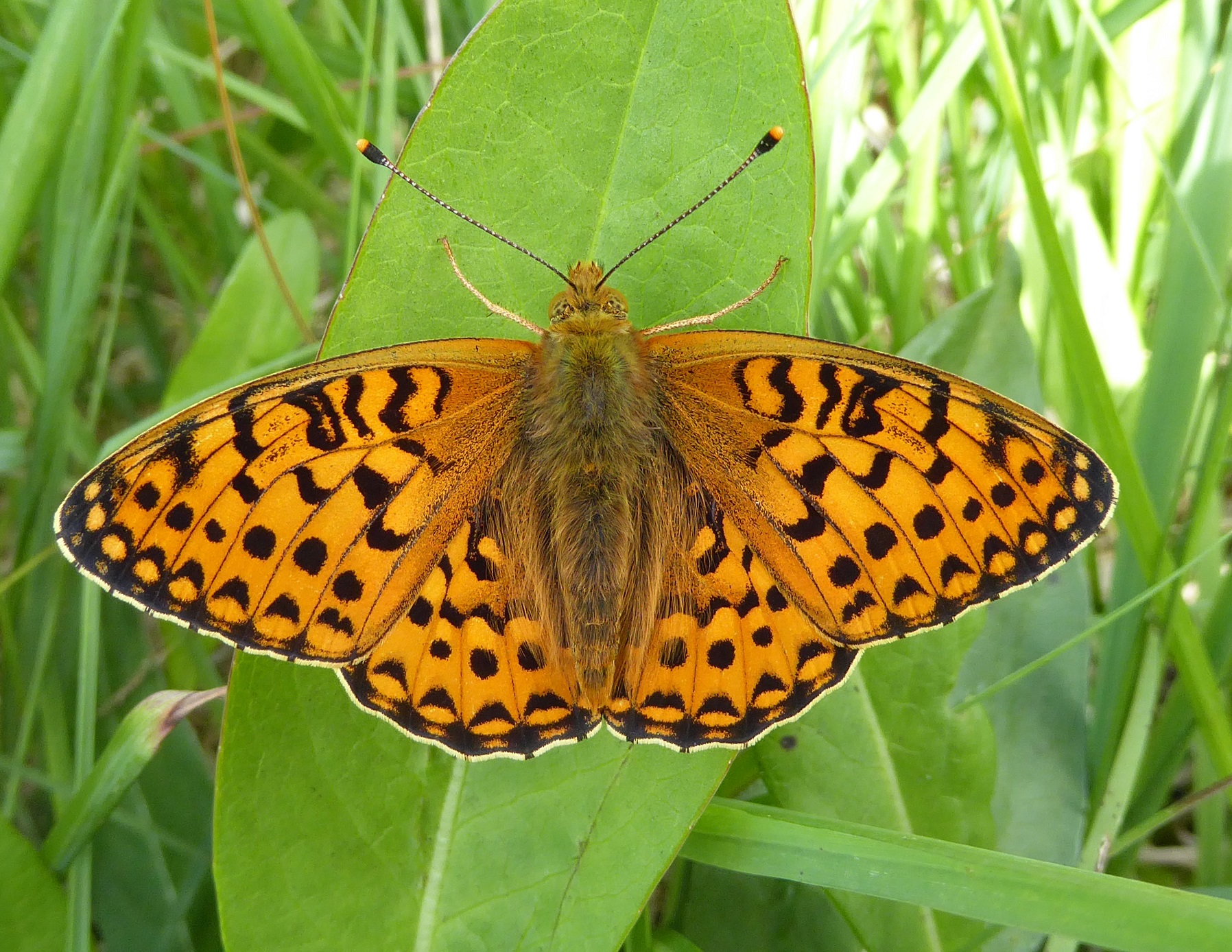 If this butterfly was a Premier League footballer, it would be a tricky, pacy winger, dashing towards goal, showing dramatic and unexpected changes of direction while at other times being more direct but always dynamic. A large, hyperactive and dazzlingly fast butterfly, it is a stunning sight when freshly emerged. The males will battle strong winds on cliffs and hills, eye-catchers who swoop and dive, passing in and out of view. The male is a deep, shining orange marked with black ticks, dots and chevrons. The female is more sedentary, darker, and highly variable. Typically, she is a duller orange with enlarged dark markings. Underside hindwings are green with spangled with reflective silver.
Where to find the Dark Green Fritillary
This butterfly likes flower-rich locations. The Burren, in Counties Clare and Galway, Sheskinmore in County Donegal, and Ballyteigue Burrow on the south County Wexford coast are among its key locations in Ireland. Coastal areas, especially vegetated sand dunes are also good places to look for it. This butterfly is highly vulnerable to agricultural intensification. Flower-filled grasslands lose their value for this butterfly when fertiliser or slurry is applied. It needs unspoiled grasslands rich in violets, its breeding plant, for its survival.
 Wood White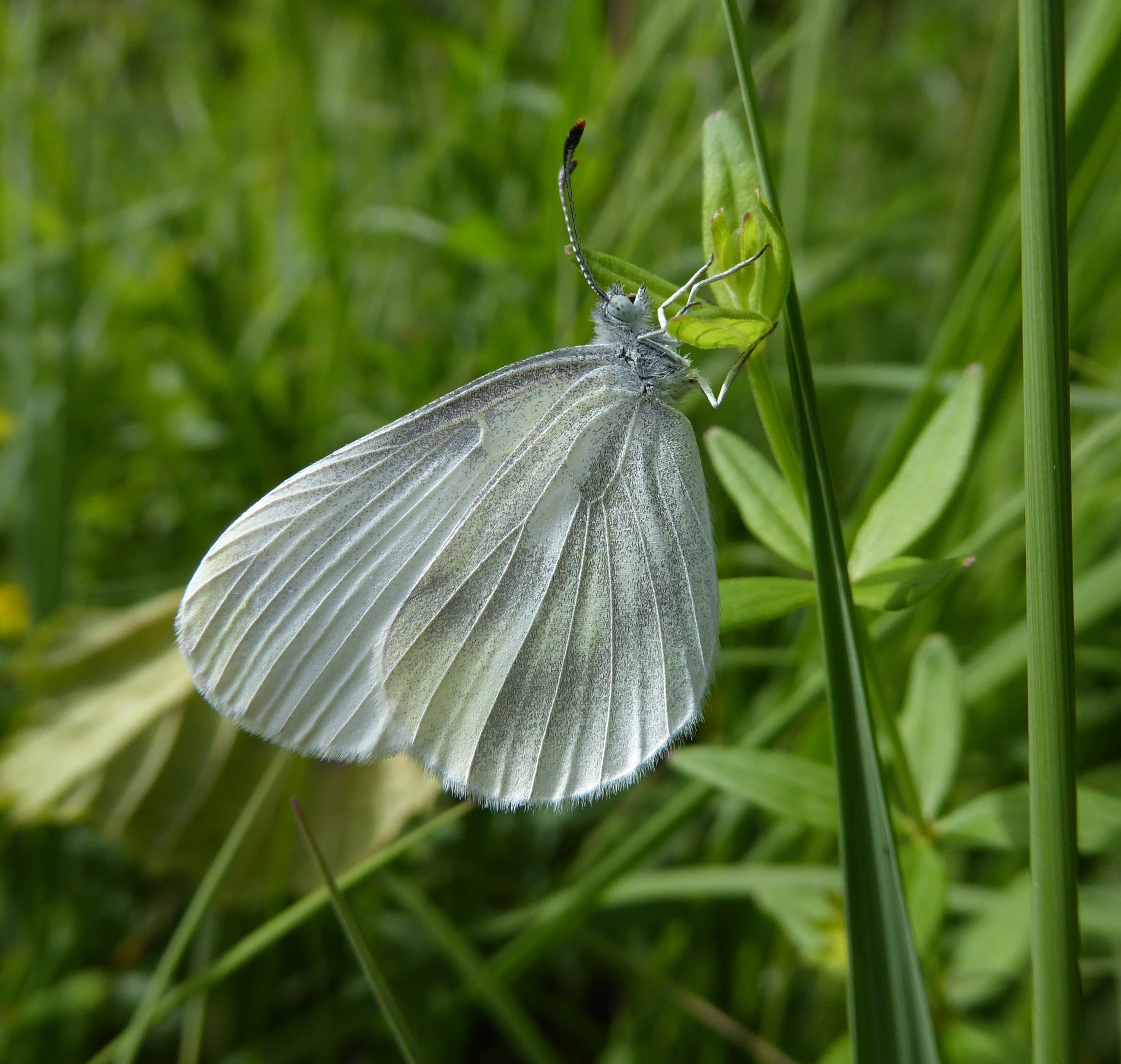 This butterfly usually has two generations a year. Found in the areas of contiguous exposed carboniferous limestone from south of the Burren northwards close to the southern border of County Mayo, this small unspotted white is notable for its low, floppy flight, a soporific sight on a hot, sticky day in late July. Breeding on vetches growing among scrub on hot dry limestone habitats, it is one of our rarer butterflies and should be monitored. The first flight is usually in May and the second flight is in mid/late July to mid-August.
Just one interesting feature is that the female appears to have poor botanical skills. She frequently tests the wrong plants before eventually finding the correct larval foodplant on which to lay an egg.  She searches in the right places but often alights on plants that are not even related to vetches. She's not alone in her confusion. Her relative, the single-brooded Cryptic Wood White (which usually flies from May-early July), which looks identical, does the same!
The main foodplants observed being used in Ireland are Meadow Vetchling, Tufted Vetch, and Bitter Vetch.
Where do find the Wood White
The Burren area where open scrub on limestone pavement contains vetches and other flowers is its stronghold in Ireland but it has been confirmed on western limestones elsewhere such as around Ennis further south in County Clare and in limestone habitats around Lough Corrib, such as west of Lough Corrib at M 19532 40634, in the Carrowmoreknock area. It might also occur at Lough Carra, County Mayo.
Purple Hairstreak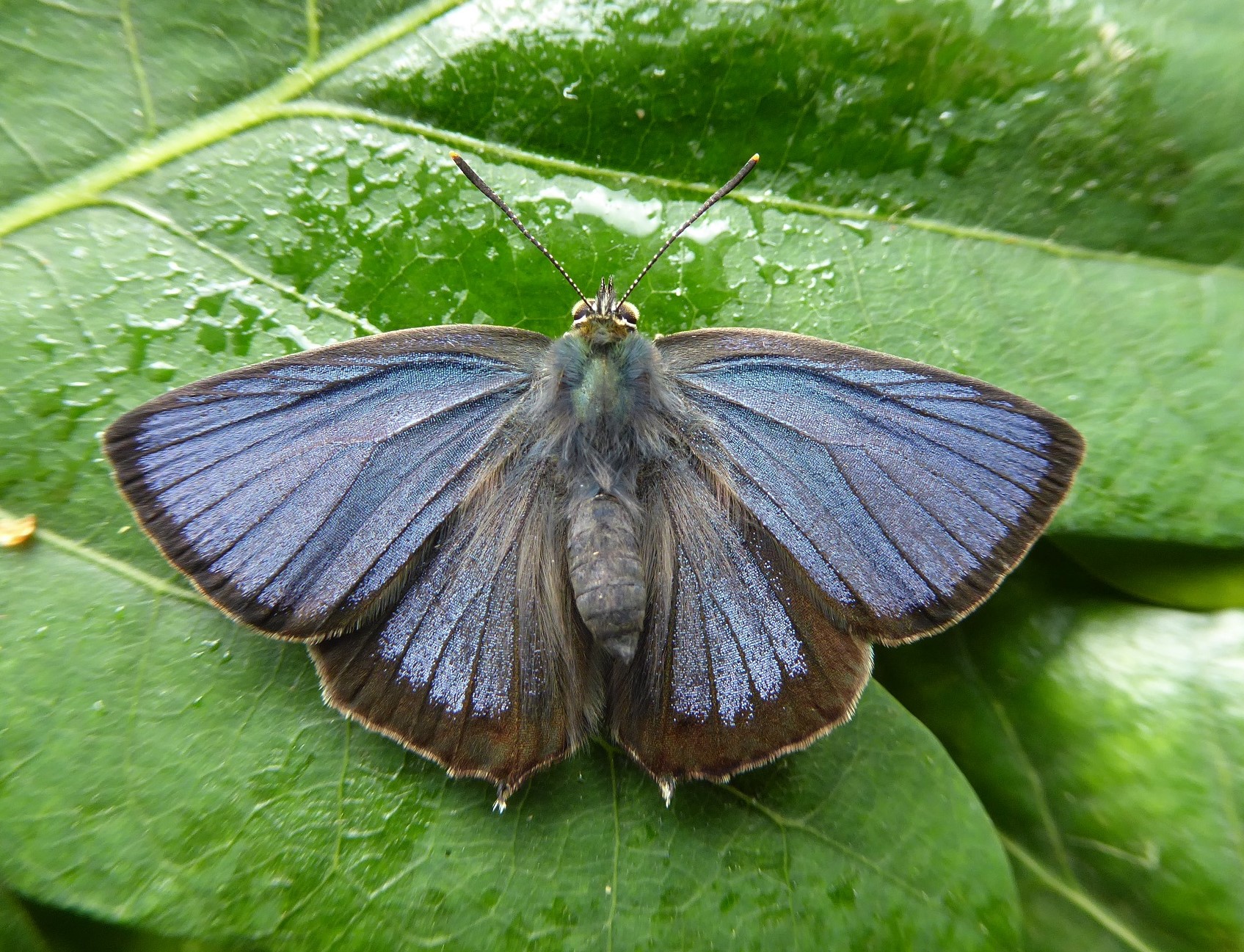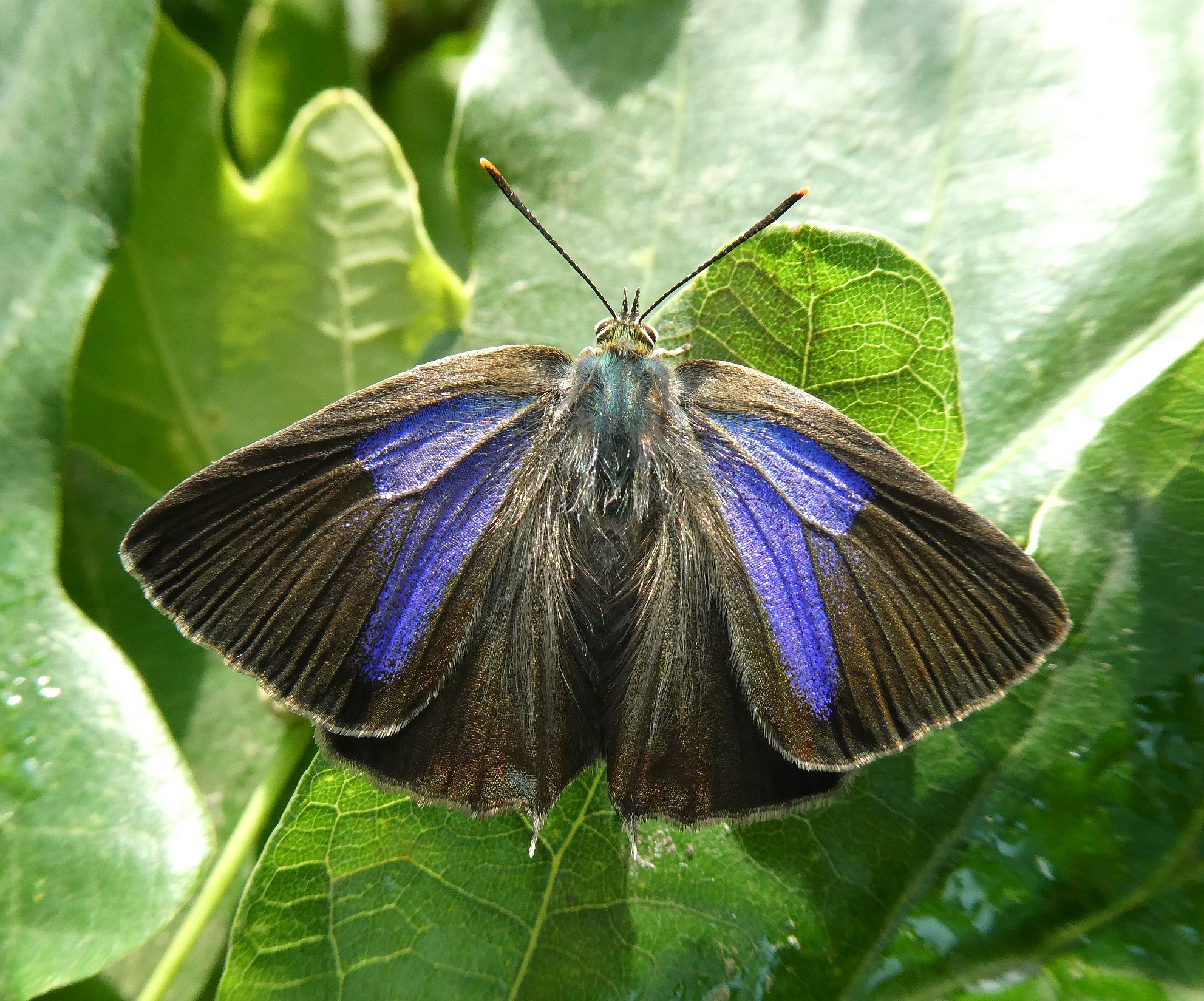 Unless a dedicated search of oak woodland, usually with binoculars, is made, you are very unlikely to see this small but beautiful creature. Both sexes have silver undersides but the darker undersides are tinted violet in the male and purple in his mate. Here we show both sexes to illustrate the differences. The butterfly is known for occupying positions often very high up on oaks and for being very active during the evenings. They are also known to be nocturnal, although I don't know the extent of their activity after dark.  I have seen it fly in almost complete darkness and it is attracted to light traps set for moths.
The oak woods in Phoenix Park, Dublin, Tomies Wood, Killarney, County Kerry, and oak woods in Wicklow such as Glendalough and Glen of the Downs are good places to look for them. Scan the canopy for the butterfly during sunny weather, especially after 5 pm. It's about the size of the Common Blue butterfly.
Enjoy watching butterflies this summer, and be sure to let us know about your butterfly records. You can find out how to send us your observations under the Records tab on this website.
All photographs © J. Harding