Light winds and bright spring sunshine and air temperatures hovering around the magic 12 Celsius, the minimum needed for butterflies to fly meant we had to get out and explore. And we did!
Pat Bell, while penning an email about butterflies was distracted by a movement outside. A lovely Peacock had alighted on his wall, absorbing heat from the masonry-his first butterfly and his first garden butterfly of 2020.
Frank Smyth, who often observes butterflies around the scenic Howth area, saw two Small Tortoiseshells and two Peacocks, despite the breeze locally. When it is windy during marginal temperatures, butterflies usually stay low, bask frequently and take to sheltered hollows.
For Mother's Day, I brought my mum to Lullybeg, County Kildare. Passing through Lullymore, we saw two lovely golden Brimstone butterflies from the car, our first butterflies of 2020. Folklore from Scandinavia has it that if the first butterfly seen in spring is yellow, a great summer follows. I am tempted to believe that now, although the Brimstone was not the very first butterfly recorded in Ireland this year.
In Lullybeg, we counted 10 Brimstones, among them two females. The males were scouring brambles and Common Ivy, seeking females. They make a lovely sight in spring, flashing deep yellow in the clean spring light. We got four Peacocks too all in one sheltered dip in the ground.
Michael Gray got his first butterfly of the year too-also a Peacock  (Dublin mountains) but it was so tattered that it couldn't fly. Strange as it seems so early in the season, this does happen. Peacocks spend the winter as adult butterflies, having fed heavily during the previous summer. During the pre-over-wintering feeding phase, many get tattered from bird attacks and even though they survive the winter, wing damage is, alas, irreparable. No such issue in the midlands; Dave McKay reported Peacocks flying in the sunshine in the Athlone area.
Another species that over-winters as an adult and that made its spring debut yesterday was the Comma butterfly, reported by Kilian Mullett from Clara Vale Nature Reserve, County Wicklow. Check warm, sunny glades in woodland, especially where there is Grey Willow in bloom-this is a Comma favourite.
In Ireland's northwest, David McIlveen reported a Small Tortoiseshell from Letterkenny. Donegal is an amazing county for butterflies; very wild and often unspoiled, its sheltered spots can produce very early records-much earlier than one might expect given its location!
Not all butterfly lovers saw butterflies yesterday. From Cavan, Jonathan Shackleton reported Chiffchaff singing, his first Sand Martin and Great Crested Grebes performing their spring courtship display this week but no butterflies yet-perhaps being further north and inland has kept them under wraps!
Happily, the next three days will see settled weather and rising temperatures away from the west coast so check your gardens, local patch and report your sightings to us. Please observe physical distancing guidelines. Butterflying is a healthy, happy lifestyle but we need to take care of ourselves and everyone else.
Enjoy your day!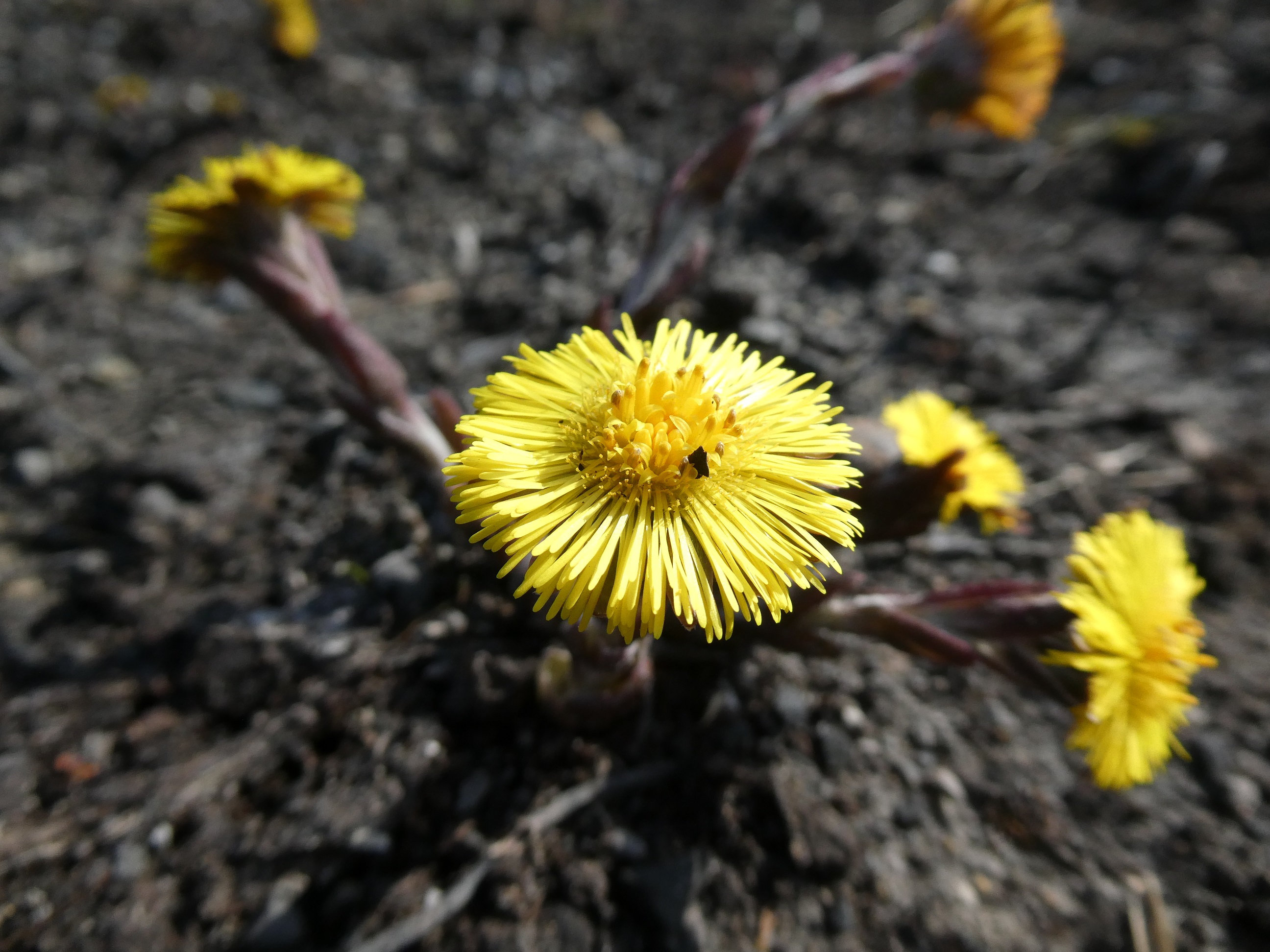 Coltsfoot glowing in the sun. This is a familiar sight in spring on disturbed soils. Photo J.Harding